Bose QuietComfort 35 II Bluetooth Headphones - Midnight Blue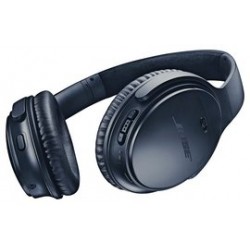 Excellent headphone
Apr 5, 2019
Deciding between Beats and Bose, found Bose to be better balanced, and less bulky. Very comfortable over the ears and the weight is great. Had them on for over an hour, felt no discomfort.
Reviewed on Argos.co.uk
Best Headphones
Apr 3, 2019
Amazing sound quality and beautifully designed. Comfortable to wear for long periods, and the noise cancellation is remarkable too! Don't think twice about getting a pair..
Reviewed on Argos.co.uk
Perfect!
Mar 29, 2019
Absolutely fantastic! Everything you would expect from Bose from brilliant sound quality, superb noise cancelling, and comfortable enough to wear for long flights!
Reviewed on Argos.co.uk
Why did I not buy these sooner..?
Mar 29, 2019
I'm cross with my self. Why did I wait so long to consider buying decent headphones. Year after year I bought top of the range iphones etc, yet always accepted the audio would come out of the standard earphones. This is utterly next level audio. A truly brilliant product. Well made and does the job. If your hesitating pull the trigger and buy them, you will be glad you did (and a little cross you didn't order them sooner)
Reviewed on Argos.co.uk
Great sound and comfort
Mar 29, 2019
These Bose head phones are fantastic. The sound is really good as is the comfort is great I could wear them all day. Battery life seems good a single charge has lasted me for a weeks use and still says it's 70% charged. It comes in a nice case with a charge lead and aux cable to hard wire the head phones to your device if Bluetooth isn't available.
Reviewed on Argos.co.uk
Superb producr
Mar 28, 2019
Ok. So yes, these are by a solid and recognised brand name. They carry a cost in line with that name. Is it worth it? Oh most definitely. The ANC is exceptional- coping easily with noisy commutes on underground trains. Connection is seamless, and having audible confirmation of the battery life is a nice touch. Sound quality is amazing, with no need to have the volume excessively high. Comfortable to wear too. Highly recommend these as being worth every penny.
Reviewed on Argos.co.uk
Does what it says on the tin.
Mar 27, 2019
Best headphones on the market of their type. The noise cancelling was perfect for comfort on a long haul flight
Reviewed on Argos.co.uk
Are they really noise cancelling or is my pair defective?
Mar 26, 2019
As a Bose lover, I decided to order these and use them on a recent flight. During the flight I used the noise cancelling feature only (no music) on high and could still hear the small child in the row behind me humming for over 2 hours, babies crying and various other noises and announcements. I love that they are comfortable and when music is played it sounds awesome but if you think that these will block out all or most of the noise then you might want to look elsewhere. Bottom line; I would say outside noise is reduced and muffled but the noises I wanted to prevent hearing still prevailed.
Reviewed on B&H Photo Video
Superb set of headphones
Mar 24, 2019
Slick piece of kit and as they are the upper end of the scale they do everything they say on the tin and more.A joy to listen to anything through and even for having conversations on the phone/online. Can't recommend these highly enough.
Reviewed on Argos.co.uk
Noise cancellation not great
Mar 23, 2019
I'am afraid the pricing and the quality you get our of those is not great. The main selling point is the Noise cancellation, and I don't think Bose got it right for 2 reasons: 1. Even with noice cancellation on, sounds still come through even at the loudest setting 2. At the loudest setting, sound leaks from the headphones which can be heard from people around you.
Reviewed on Argos.co.uk
Really good product
Mar 20, 2019
Nice looking product in blue. Easy to connect to app. Really good sound. The best blue tooth headphones on the market.
Reviewed on Argos.co.uk
Bose QuietComfort QC35 II
Mar 18, 2019
Bose everybody knows the name but are they worth the price well maybe if money is on problem there comfortable and I mean comfortable the noise cancelling works great it's not the best out the at the moment but it works fine for me sound quality absolutely great I can't see it getting any better people say there's not enough base it's fine they sound like subs when there on but they are expensive headphones you get what you pay for and I think Bose have got it right
Reviewed on Argos.co.uk
Really good, worth the money
Mar 8, 2019
A really good set of headphones. Generally perfect for what I need. The sound is fab and the noise cancelling is brilliant. Ears can become slightly tender if they are left on for a long time.
Reviewed on Argos.co.uk
Excellent sound
Mar 5, 2019
Treated myself to these for my birthday as got Bose mini speaker sound quality is outstanding very pleased
Reviewed on Argos.co.uk
Bose never disappoints!!
Mar 4, 2019
I have owned a few different styles of Bose headphones/earphones and these are the most awesome.. the sound and the noise cancelling is second to none, especially when in an airplane! The cost was a little higher than I wanted to pay, but now I have them I know why!
Reviewed on Argos.co.uk
Perfect flat companion
Feb 25, 2019
After moving into a flat I needed an option to listen to my music and watching movies without annoying my neighbours. Absolutely no regrets on my purchase. There's a reason why these headphones are regarded as the gold standard in audio quality and comfort. And the noise cancelling is stunning, although I've since dial the effect down a notch as it feels very much like a sensory deprecation chamber at its full setting. Fantastic purchase you won't regret buying.
Reviewed on Argos.co.uk
Excellent ear phones.
Feb 25, 2019
As a person with hearing difficulties, having these noise cancelling ear phones is a joy. Linked to my tablet whilst watching a film on the rush hour commute to London allowed me to forget I was on a train. I have a large head and these are very light and comfy. Looking forward to seeing how well they do on a long flight. Sound quality is superb.
Reviewed on Argos.co.uk
Great headphones
Feb 19, 2019
Great product, very comfortable, sound is very good and definitely worth the money. Would recommend to a friend.
Reviewed on Argos.co.uk
Ultimate aural!
Feb 14, 2019
These are a luxury in every sense of the word. Very expensive and probably not worth the premium price unless you're a music professional but I've reached a point in life where I can afford as little excess now and again! Can't fault them so far. Given the option I'd rather have had a neutral or English accent from the assistant, but you don't hear it very often so it doesn't diminish the pleasure. Great case, nothing flashy or ostentatious, just do the job seriously well.
Reviewed on Argos.co.uk
Excellent wireless headphones
Feb 6, 2019
These are simply the best headphones I have ever owned. They are comfortable to wear, reasonably simple to set up and the battery lasts a long time. I thoroughly recommend them
Reviewed on Argos.co.uk
Blocks Office Noise
Feb 6, 2019
The QC 35 II does a wonderful job blocking office noise and coworkers. Sometimes I wear them without music. The battery life has been good so far. Should have purchased sooner!
Reviewed on B&H Photo Video
Super happy
Feb 4, 2019
Sounds perfect, not too heavy, very comfortable, just wish they worked with Xbox one(only complaint), hopefully bose figures out a solution for that soon;)
Reviewed on B&H Photo Video
Worth every penny
Jan 27, 2019
These headphones are incredible. Our breakroom at work has a pool hall atmosphere. Not a concern any more. Just switch them on and silence. Can hear music and movies on the tablet perfectly. And the sound quality is as expected form a Bose product.
Reviewed on B&H Photo Video
Go for it
Jan 25, 2019
Owned a pair of beats studio. Bose is a remarkable step up from the beats. Go for it you will enjoy.
Reviewed on B&H Photo Video