Bose SoundSport Wireless In-Ear Headphones (Aqua)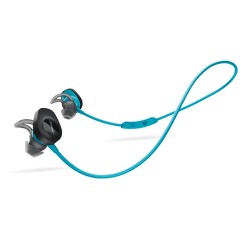 This one is a beauty!!
Mar 17, 2020
Excellent build, very good accessories. Good battery life. Very good soundstage, signature Bose sound. Very good separation of sound and very clear zero distortion sound. Good call quality and good Bluetooth connectivity.
Reviewed on Argos.co.uk
Great for working out.
Mar 11, 2020
Great headphones, perfect for the gym. Decent battery life, good sound quality. The batteries are in the ear bud so the cable doesn't drag one way or another. Phonecall clarity is excellent
Reviewed on Argos.co.uk
The Bose sound sport are the best in class.
Mar 4, 2020
These headphones are true class and total worth the money. Excellent build quality, smooth pairing and beautiful soundstage!! Very satisfied just as the other Bose products I own.
Reviewed on Argos.co.uk
BOSE!
Mar 3, 2020
Great warm bass, clear sound, ear pieces to fit any ear, connects easily to your smart phone. Great product.
Reviewed on B&H Photo Video
Good Sound, Fit, and Durability at a Good Price
Feb 21, 2020
I have owned a pair of Bose Soundsport headphones without a microphone for several years and have been delighted with their clean sound, durability, perfect fit for my small ear canals (they come with earpieces in several sizes), and how they stay snugly in my ears, even while running or cycling. When I started to telecommute from home, I needed headphones with a microphone for Skype calls. The SoundSports with a mic were priced the same as th... Show Moree original pair without the mic several years earlier. There was no need to shop around, so I snapped up a pair, and have been happy with them, too. The two pairs are used interchangeably, except for when a mic is needed, and will probably last for many years.Show Less
Reviewed on B&H Photo Video
Fantastic In-ear Headphones
Jan 27, 2020
Got these for two reasons. Wanted wireless and something that travels well. I have used these traveling, and find the case and footprint are exactly what I need. The price is very reasonable and for me, the quality was quite good. (I am not an audiophile.) Love them (this was my second pair. Bought one a year ago for my wife and she loves them as well.)
Reviewed on B&H Photo Video
Excellent sports headphones suitable for everyday
Jan 23, 2020
Excellent pair of sports headphones that come with all the features you would expect at price point: - Wireless (with no delay in my experience) - Water-resistance - Superb sound quality, punchy mids. No noise isolation, which is expected on sports earphones. The packaging & presentation felt suitably premium, and made for an excellent gift. The earphones are easy to connect. I would suggest trying all the different included earbuds to see which is the most comfortable.
Reviewed on Argos.co.uk
Inconsistent
Jan 16, 2020
When listening to a device without moving much the HRM is great. When exercising it becomes inconsistent, and loses data. Either that or my heart stops for minutes at the time.... The music transfer and quality is great though.
Reviewed on Argos.co.uk
great sports headphones, great service
Dec 23, 2019
Bought these at B&H as they are a very well-reviewed product and I would add to this support. They are great for running, etc. A really good price... and, as ever, excellent service at B&H. A real gem of a store.
Reviewed on B&H Photo Video
Caution: Fragile Low Life Span
Dec 1, 2019
First: Used only at my desk and the rubber housing and the on-off button fell apart. So, after a year, the unit simply lost functionality. Second: I tried one time to walk or run with these and the combination of the wire between the two units and the weight of them protruding out of your ear causes them to bounce and crackle in your ear! Unbearable. Third: About that protrusion thing... I know the folks on the other end of videochats really do wonder if those are earplugs in my ear or a couple of black doorknobs. :-)
Reviewed on B&H Photo Video
As to be expected from Bose
Nov 24, 2019
Exactly as expected from a company as class as Bose. These complement the QC35ii as my walk around town, commute to work earphones, but also are used for running and at the gym. They are sweat and water resistant. They fit in my ears comfortably without falling out despite running. Most importantly, they sound fantastic. Love them and would replace with the same ones should I ever need to. Thank you Bose.
Reviewed on Argos.co.uk
Rubber casing stretched out
Nov 12, 2019
Sound has been good but: The rubber casing around controls stretched out and is floppy after very light office use. They hang out from your ears when running so that when the cord bounces with each stride the earplug causes pops in your ear. So, I ran in these one time and never again. Video chat with these on makes you look like you have training wheels on your ears.
Reviewed on B&H Photo Video
Great sounding headphones, fabulous comfort
Nov 8, 2019
I've purchased Bose headphones for many years now and they never fail to disappoint. Argos delivery service prompt and reliable as always!
Reviewed on Argos.co.uk
Sleek and awesome sound quality
Oct 17, 2019
These earphones look great and fit perfectly, sound quality is great. Not noise cancelling but does a close to perfect job, definitely worth the price.
Reviewed on Argos.co.uk
Very good stuff
Oct 17, 2019
Good stuff really, sound quality excellent, and I personally prefer these ones with the little cable than the ones with no cable. Recommended 100%
Reviewed on Argos.co.uk
Incredible Sound
Oct 8, 2019
BOSE once again lives up to its reputation with these Soundsport Headphones. I upgraded to these buds from another name brand set I bought a couple of years ago and the difference is incredible. Plenty of volume, super rich lows, a good snug fit and an easy to use app makes these buds well worth the money.
Reviewed on B&H Photo Video
They're ok but not worth the price
Sep 26, 2019
The sound quality is really good but they're not particularly loud, I've got to have them on full volume when out for a run and even that's not quite ideal volume. I've previously bought £20 earphones from amazon and whilst the sound quality is clearly not as good, I think I'd rather revert back to the cheaper option. For over £100 I expected a lot more - I would save your money and not bother!
Reviewed on Argos.co.uk
Sep 11, 2019
The product stands what bose is known for, very good quality sound. Convenient and not bulky. Easy to charge and battery life last for more than 6 hours.
Reviewed on Argos.co.uk
Poor design quality
Aug 13, 2019
Bose, you have let us down this time! Uncomfortable to wear in-ear headphones which I would not recommend buying.
Reviewed on B&H Photo Video
Best I had
Aug 12, 2019
I had it only for several weeks but I am very happy with it. The sound is fantastic. The shape of the buds fits perfectly into my ears...usually i have problems with then coming off. They are also not heavy. Many have the right side heavier because of the volume switch, but these wear very comfortably.
Reviewed on B&H Photo Video
Bose SoundSport is one of the best headphones
Jul 31, 2019
This headphones are very good. Sound is perfect, hold in years also very good! Just one small minus is blocking sound around, u can hear a lot but on other hand it is for your safe when u running/cycling on the road. 90% and recomend for all who want listen when doing some sport !
Reviewed on Argos.co.uk
Cord frayed out
Jul 27, 2019
Wonderful sound quality for about 4 months. But the cord frayed out way too soon for a pair this expensive
Reviewed on B&H Photo Video
Cord frayed out
Jul 27, 2019
Wonderful sound quality for about 4 months. But the cord frayed out way too soon for a pair this expensive
Reviewed on B&H Photo Video
Outstanding sound quality
Jul 19, 2019
It was a birthday present the sound quality, easy usage and perfect style, suited my teenage son in wearing the fir his everyday use. Excellent.
Reviewed on Argos.co.uk