WH-1000XM3 Kablosuz Bluetooth Kulaklık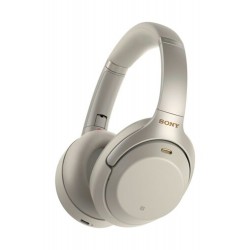 Great Isolation - No Need to Taste Earwax
Dec 28, 2019
Okay, so all the reviews that talk about how good these are are largely dead-on. Since no one is making really good bluetooth canal phones (*cough* Etymotic *cough*), Ive been wanting to get some good noise canceling over-ear headphones for a while now. Mostly for work, but also for when I travel. How good is the noise isolation with these? Almost as good as the passive isolation from Etymotic in-ear canal phones when you get a good seal. That ... Show Moresaid, theyre more comfortable than Etys, and you dont have to lick something that has your own earwax on it to get that noise isolation. On a bus in Seattle, most of the bus noises disappear. You can still hear people talking right next to you, although their volumes are greatly reduced. If you sit close to the engine, some of the hum gets through. Sitting in a cafe theyre amazing, although, again, if someone is talking right next to you, youll hear it. At work I got to really test them over the holidays when I had to work through my companys holiday party happening 50 feet away from me. I could hear it, but it wasnt that loud, and I was able to work comfortably. Day-to-day at work, theyre comfortable to wear all day long, and after being on all day, the battery drops by about 10%. Im not an audiophile, but the sounds on these seems really good. Opera, pop, R&B, hiphop, country, rock, folk, jazz, it all sounds amazing. Definitely worth the money. ***** Things that could be improved: The case: while the case is nice, for $300+, Sony should really include an actual hard case. I wouldnt want to put that case in a tightly packed suitcase, at least not with the headphones inside. The charging cable: Sonys included USB-C charging cable is, Im not kidding, 8 inches long. So unless youre charging off a USB hub or your laptops ports, good luck having that reach anywhere youd want to leave your expensive headphones to charge. Then they have the gall to say in the manual that other charging cables may not work. I bought a pair of Anker USB-C cables that work fine (no surprise). Holy moly Sony, at least include an 18 inch cable, if not a 3 foot one, like the rest of the world. Build quality: as has been commented elsewhere, the build quality on these doesnt *feel* that high end. Time will tell how well they last, but dont feel as expensive as they are. Head-size adjustment steps: two points here. 1) The number of steps should be doubled, as I found my ideal adjustment is likely between two of the existing steps. Like I said above, theyre still comfortable to wear all day, but I kept adjusting them for the first week or so to find a slightly better fit. 2) They dont fit in the case unless the head-size adjustment is collapsed, which means you have to re-adjust them each time. Not that big of a deal, but also they dont adjust as effortlessly as something like the AKG k240ss. Portability: this is petty, but even collapsed down and in their case, these are still too big to carry around in a backpack when youve already got a laptop, a couple of books, and a bunch of other odds and ends. Its mostly a compliment to how good these sound that I want to be able to carry around full-sized headphones, but short of another bag for these or switching to a bigger backpack, alas, they will live at my job and come with me when I travel.Show Less
Reviewed on B&H Photo Video
Learn how to use the apps
Dec 7, 2019
Disappointed that we bought two of these a few weeks ago, and now they're $70 off each (Cyber week)... but, very happy with them. The headphones app is a bit tricky, especially the ambient noise control and Adaptive Sound Control options. If you don't have these set up properly, you may think the noise cancelling isn't working. The adaptive sound control senses if you (your phone) is moving and adjusts the amount of noise cancelling and whether o... Show Morer not to prioritize voices coming through over ambient noise like traffic. This is actually a cool feature as it helps you stay safe in environments where you have to have some awareness of what else is going on around you. If you only use the headphones at home, turn it off. I think many of the negative reviews I read before buying were due to people not having this set up right - once you start walking or moving in a conveyance it kicks in and lets outside noise in unless you set it otherwise (if using App). The equalizer in the headphones app helps you hear the type of sound you like. We like it on the Bright setting. I read in one review that you should use the Sony Music Center app to control your music. This imperfect user-interface app appears to source music from your iPhone music app and may add Sony specific codecs to improve the sound - don't know that for sure, but I know I really like the music when I control the playing through this Sony Music Center app. I tentatively recommend it for that reason. There are 'tracking' features of the apps, but you can opt-out of them when installing. Both apps are free. I think I may have had to link to them from the Sony site rather than finding in the App store. The one trick with using the Sony Music Center app, is that you need to choose My Library to find your music in the Apple Music app (loaded onto your phone storage from PC using old-version iTunes), and when you choose Albums for example, and select one, you must select the ellipsis (... symbol) on the album to select play next or add to queue or playlist, etc. Not intuitive at all, but once you know that it's quite easy. In case I didn't mention it above, the noise cancelling is as good as they say. Which is really really good. I can't wait to take this traveling through busy airports and on flights with screaming youngsters, the main reason I resist traveling these days... The usb charging cord is indeed very short. I have a USB M-F extender cable I use when more length is needed. 'nuf said?Show Less
Reviewed on B&H Photo Video
Beyond Bassy & Bad Bluetooth & Bad App
Aug 13, 2019
It's been said before but bears repeating: these headphones will not maintain passive Bluetooth connections or passively reconnect to devices they've already paired with. Going from phone to tablet to laptop is beyond the capabilities of these headphones without first manually disconnecting from the current device before moving on to the next. It's an unnecessary and frustrating deficiency. Talk on your phone waiting for the plane, sit down, open... Show More the iPad no dice. First go into your phone's BT settings and disconnect. Then go to your iPad settings and manually reconnect. By contrast Bose connect and passively stay connected or passively reconnect to multiple devices as long as they've been paired before. The bass is a joke. It's huge and mushy and overwhelming. Yes you can tweak the EQ in the app oh, the app itself always takes several seconds to re-recognize the headphones even when the connection hasn't been broken but if you happen to go wired then they default back to the big bassy mush instead of retaining what you set in the app. If you're like me and like hearing vocals and dialogue, you're outta luck. The app itself is necessary to really use these things, which, off the bat makes it unwelcome. Why can't the default audio be great? Why does Sony need my data? On top of its intrusion there's the connection latency plus the UI isn't great. Smaller note: the unit's power-on and power-off is a bit slow. So is changing between its noise canceling modes. None of it is instantaneous by any measure even though in every case all you're doing is hitting a button so the latency seems unmotivated. Also, the outer surface of the cans is super sensitive to touch and it's easy to misdirect them by getting a tap or gesture slightly off, so instead of increasing volume you wind up skipping tracks, etc. Also at least for me I felt a lot goofier tapping and swiping these giant headphones than I do when I perform the equivalent gestures on tiny Airpods. (The bigger surface area of these makes them extra susceptible to unintentional swipes and taps whereas with tiny Airpods it's a non-issue.) Went back and forth between these and the Bose QC35II and the Bose 700s and wound up returning the Sonys and going for the QC35II (Bose 700s buttons aren't great, they headphones don't fold, etc. They do look better in reality than in photos, though.) I thought these fell way short of the many glowing reviews I read during my research.Show Less
Reviewed on B&H Photo Video
Overall great, with a few little annoying things
Aug 19, 2019
These headphone have a lot of 5-star qualities, with just a few annoying things that may or may not be dealbreakers depending on how you want to use the headphones. The good stuff: -Very comfortable and lightweight, can be worn for a long time -Excellent battery life -Good sound quality -Nice, compact carrying case -Noise-canceling features feel better on the eardrums than the Bose, Bang & Olufsen, and other models I tried on in the B&H Store.... Show More The Bose headphones in particular felt as if they created a low-pressure chamber over my ears, like they were lightly sucking out the ear drum. These Sony's felt noticeably better. The not good stuff: -Very short Charging cord. Not even a foot long. So short that it can't make it from wall outlet to the floor, and even if you charge on a USB on your computer, the cord is so short that it's awkward. -Can get a little sweaty if you run hot -The play/pause and volume controls are touch activated. For some people this may be a plus, but in the first week of owning the headphones I have accidentally paused or skipped to the next song a least 5 times, usually by inadvertently touching or brushing up against the side of the earpiece. On top of this, there are no physical markings, bumps, or notches on the earpiece that remind you where the command locations are. Hitting the play/pause button means tapping the center of the right earpiece. Of course this task would be simple if the headphones were off your head and you were looking at them. It is much easier said than done when you are wearing the headphones and cannot see exactly where the center is. On multiple occasions I find myself needing to tap 3-4 times to finally hit it in the center to pause the song. It's fairly easy to turn volume up or down by swiping up or down on the right earpiece. But going up or down fast is tedious and requires a whole lot of swiping, and a physical wheel to control volume would be way easier. If Sony really wants to stick with the touch controls, some tiny bumps or grooves on the outside of the headphones that would help so much! Other than the small annoyance of the touch controls, I really like these headphones.Show Less
Reviewed on B&H Photo Video
Generally good but some annoyances
Oct 23, 2019
I use these headphones to listen to streaming video and YouTube music via my computer. The sound is excellent which is what I bought them for. Also, I've tried the noise-canceling in a room with an audible blowing wall-heater, and they quiet its sound dramtically . Good. But several things give trouble. First, Sony used graphics for their instructions and probably hoped that we could look back and forth from instructions to headphones and could... Show More poke things to see what would happen. But no. These are more difficult instructions than usual. Details were glossed over, parts were hard to find. But I got it. I would have learned much faster with standard written instructions. Second, persisting problems come from Sony using the color red to mark parts on the black headphones. It is one of the worst color combinations for seeing clearly. Then they put the left and right labels R and L on the inside of the phones rather than the outside. They used tiny fonts to write the noise canceling label and the on/off label on the left headphone, and the font color seems to be a dark gray on black. Again, after mistakes, I learned it by memorizing the positions of the buttons. Third, it is hard to identify if you have succeeded in turning the headphones off. They use an intermittent brief red light, contrary to most other electronic equipment which does it the right way with a light that stays on when the power is on and turns off when the power is off. Again, I made mistakes for awhile. Fourth, the closed tightly gripping phones are very sensitive to their position on one's head, and they cause noisy feedback and it isn't quick to find the ideal position. Fifth, I wear hearing aids and the very firm pressure on one of the aids causes pain and I have to listen with just the other ear. This problem has not happened with several other headphones (all with cords) I've bought over the years. Overall, because of the good sound quality, which is what a partly deaf person needs, I expect to keep using them despite the need to fiddle with them and to take them off every so often for comfort.Show Less
Reviewed on B&H Photo Video
Performance. Comfort and Features
Jun 13, 2019
After doing a lot of research on the competing NC BT headphones in the $250 - $350 area. I finally decided on the Sony WH-1000M3 and have been so very happy with my decision. Others headphones considered and tested were Bose Quiet Comfort 35 II. Sennheiser PXC 550 and Bowers and Wilkins PX. Also other models from AKG, Skull Candy, Bang and Olufsen. I found that the Sony's were overall the best option in terms of Sound Quality, Features, Comfor... Show Moret and Battery life. I have had the opportunity since to test the Sony's at home, outside on noisy streets and on Aircraft. They continue to impress me. I can wear them for hours in comfort. This includes when wearing thicker frame glasses. One area that had my concern, was the Sony's feature to turn off NC, if you place you hand over the right head piece. This is to allow you to temporarily communicate with another person. For example with a Flight attendant. My concern was, that this feature might activate, if I fell asleep and put my head against the seat or pillow. In practice, this seemed to not be the case. This feature only activates with the skin of your hand, But not with material of clothing or seats etc. A special note of interest. I was recently given the opportunity to test a Chord Mojo portable DAC with the Sony WH-1000XM3. All I can say is WOW!! I thought that the Sony headphones sounded great by themselves. But with the Mojo external DAC, the performance was way, way better. Better clarity. Better depth and realism. Individual instruments and voices easier to distinguish. But remember. This improvement is due to the quality of the Chord Mojo DAC itself, when compared to the DAC in my Apple iPhone XR. It's not to say that the Sony's aren't capable enough by themselves. But it shows that the Sony Headphones have the ability to provide fantastic sound quality if the source quality itself is improved. In conclusion, I can highly recommend the Sony WH-1000XM3 headphones. If you can afford it, then also consider improving your audio source as well.Show Less
Reviewed on B&H Photo Video
Recommend for noisey office
Mar 5, 2019
I bought these primarily for the noise cancelling, and they work great. I work in an office with half height cubicles and lots of conversations, copier machines, conference calls, etc. I am not exaggerating when I say they brought a momentary tear to my eyes when I turned them on for the first time. The office hum and chaos tuned immediately to a hush. I couldnt even hear the copier or my neighbors conversation. I kept taking them off and putting... Show More them on just to make sure I wasnt fooling myself. Right then and there I knew my office life would change for the better, and it has. Ive had these for about two weeks and bring them with me everyday. Please be aware that some voices are of a certain frequency that the noise cancelling doesnt totally block them out, but they are silenced enough that a soft soundtrack through my Bluetooth connection effectively eliminates any remnant noise. The music quality was secondary to my needs, but I am very happy with the quality of both the wired connection and wireless for my streaming service. To maximize these headphones I recommend downloading the Sony Music Center app in addition to the headphone app the instructions link you to download on your mobile device. It seemed to enable the LDAC wireless connection from my mobile phone to these headphones. These get five stara from me because they exceed my expectations. For somebody who is an audiophile, they may not exceed your expectations. But if you want really good audio quality and effective noise cancelling in a wireless over the ear headphone, dont hesitate. BTW, they are very good for taking calls too and having a conversation. My wife couldnt tell I was on headphones when I was talking to her. She said my voice was very clear, for what its worth. One other thing to note is that the physical button that turns on/off the headphone can be reassigned to do Google Assistant. Seems redundant if your phone is within reach. But I like these very much and highly recommend!Show Less
Reviewed on B&H Photo Video
Sony WH 1000XM3
Jan 28, 2019
These are a great pair of headphones. I have owned the 1000 & 1000XM2 so obviously like the sony sound. I can also compare to the previous models as well. Sony have changed the design on these headphones They have added extra padding to the top of the band, but to be honest it changes the look but IMHO it does not add anything to the to the day to day comfort of the phones. The exterior of the cups has also changed and is no longer textured. This... Show More has improved the touch controls for volume & track advance and in use means that they are responsive each and every time, but does not look as good as the previous models. The padding on the cups has been improved and to me they fit more snuggly. I was worried that my ears would heat up and be uncomfortable with extended use, but this has not been the case. They are more comfortable than the 1000XM2. The sound quality has changed a little, this could be to changes in the actual speaker or the snugger fit which would mean that there is less air. This has meant that the bass witch was already deep and powerful has been increased. The overall sound has become a little darker to my ears over the previous models. But not in a bad way. there is no sibilance to vocals/female vocals. They have also improved the noice cancelling and now it fantastic out and about. The battery is improved from previous models. A great pair of headphones that charge faster, keep batter power for longer and sound great. The only caveat, if you prefer a brighter treble or have very large ears, maybe give them an audition first. PS... I pass on my older phones to my eldest son, so don't mind upgrading each year. If you are not able to do that, not sure the improvements justify swapping up from the 1000XM2. Though the additional battery time and extra bass may swing it for some.Show Less
Reviewed on ThomannMusic.com
Good sound, but not as comfortable as bose qc 35 ii
Dec 12, 2018
I think in terms of comfort bose is best, i can wear bose for 8 hours when working and still feels great, it doesnt heat up easily, lighter than sony, and it doesnt fall off easily. in terms of sound Sony sounds little better than bose, but they are so similar. But the Sonys cushions seems to last longer, my previous bose qc25 head cushion lost its elastic after like 4 years of use. I think both sony and bose looks equality great. Even though the... Show More Sony wins a little on the sound quality, but i think the comfort should come first, i would say the bose is much better in terms of comfort if you want to wear the headphone for a long time, the only thing that I concerned was how long these headphone will last, but i think i would rather have bose for the better comfort than the sound quality. Pro: 1.Nice noise cancelling with very low pressure on the ear 2.The apps bass is great 3.the ear cushion and head cushion is very soft, feels softer than bose 4.the design looks great, and the material looks better than bose 5.nice battery life and charge really fast Con: 1.The Bluetooth with windows computer is unusable without metered connection, with the metered is still pretty bad signal, my bose headphones works perfectly fine. 2.the depth of the ear cups are way worst than bose, cannot wear this for a long period of time because the headphone is pressing against my ear too much, bose give a tons of space to the ear so it doesnt heat up or make my ear feels hurt after a long time of use, my ear is like pushing against the sponge on the drives, and it feel really bad. 3.the touch control for the volume is not that good to use. 4.the clap force is very little so its very easy to fall off.Show Less
Reviewed on B&H Photo Video
Great for noise canceling!
Feb 21, 2019
My husband and I each have a set, we are older and have a hard time hearing the TV. Weve paired with Bluetooth to each of our TVs using a Bluetooth transmitter on the TV. Many of the shows have music in the background making it much more difficult to understand what they are saying. With these, it is easier to actually hear what is being said. The charger cord is extremely short, but is not a problem for us because I just lay them on top of the... Show More computer tower and plug in. My husband has a USB port in the console of the sectional. He plugs in and closes the console lid. The cord is literally only 4 inches long. True story. Dont be using the headphones and be waiting to hear someone knock on the door! You wont hear them! The noise canceling feature works quite well. For ambient sound, just cover the right side of the earphones, and you can hear sounds around you better...and it temporarily mutes the sound in the headphones. Being harder of hearing, we have to uncover an ear so we can hear. They are very comfortable. I do miss the old-timey sound control wheels. To change the volume, tap the middle of the right earphone and swipe up or down. It works, but a wheel is more convenient. New and improved isnt always better. I have no popping or static with these, which is huge to us! We just retired two NEW pair because of this very problem (they were also Sony). They werent returnable...should have been a red flag at time of purchase. Lesson learned. All in all, we both love our headphones!Show Less
Reviewed on B&H Photo Video
Better than Bose QC 35s
Nov 20, 2018
We need2recognize these r a pair of ANC headphones&that is what Im rating,not high-def headset that uses data dense file.Dont know why1would purchase a hi-res player & headset.Cost a fortune&if u listen2ur music on the go, subway trains, street c horns, buses, wind etc r all going2be interfering c ur listening pleasure - thus ANC.If I want2really listen2music I sit down,relax&listen2my surround sound system at home, which is a heck of alot better... Show More than any hi-res headphone. Back2 MX3. ANC on MX3 blows away Bose QC 35, which I used4past 3 yrs until I broke them & Im glad I did. I used QC 35s everywhere. I can only comment on the street, supermarket, my kitchen c the cooktop exhaust hood going & NYC Q subway train. Intimately knowing how the QC35s performed in those settings I can tell u the MX3s seriously outperform. I find the XM3 more comfortable. 30 hrs of play time is very nice, & 5 min charge = 5hrs, will come in handy when I travel. Sound quality? Initially I found it pretty good, but was a little disappointed. Then I watched a you-tube video on how2tweak sound&woe, dramatic improvement2point of serious listening pleasure. The bad. I really dont like buttons, but more I use them better Im getting. If I take XM3 off & hang headset around my neck, buttons r accidently being hit by my chin turning music on, siri on etc. Price? Well wed all like2spend less,but theyre better than so called best ANC headset on market&the same price. u r getting what u paid for.Show Less
Reviewed on B&H Photo Video
Audiophile Cans Meet New Tech
Aug 14, 2019
I am a Grado headphone addict. I need and demand the best sound production. I have never liked noise cancelling headphones. I considered them gimmicky. I own the Bose older 15s. The sound was hollow and the noise cancellation technology hurst my ears. So I abandoned trying any others for four years. In anticipation of traveling, I overcame my reluctance with NC headphones after internet reviews, and sampled the new Bose 700 at their store. Over... Show Morewhelming treble. Ouch! But better (not great) telephone call sound. Did not buy. Tried these from B & H. Wow! What makes these truly worth it: technology is subordinate to sound. Noise cancellation takes a back seat to sound production. I need the best sound. Thats why at home I listen with Grado cans. I refused to believe the overwhelmingly positive reviews of these Sonys until I tried them over two recent flights on a plane. The newest NC technology with Sony is a game changer. No ear pain! You can easily adjust the degree of noise cancellation with their iPhone app. Youve got to see the options in that app. Customization of NC, sound equalizer and sound reference options! Now I know why Sony is cornering the NC headphone market. Terrific. Highly recommended. Dont believe this review. Try it.Show Less
Reviewed on B&H Photo Video
Surprisinglybad!
Dec 23, 2018
I was waiting for a while to move somewhere else from my Bose QC35 (which I loved) to something more up to date (USB-C, latest codecs support etc.). And finally, Ive decided to go with 1000XM3 since all the reviews idolized them. After a week of active use I, unfortunately, came up with the decision to returnthem back for the following reasons: 1) I faced with a widespread manufacturing defect that is in clicking and popping sound from the left ... Show Moreearcup that occurs on the move or if there is something that generates a vibration (walking, commuting on public transport or even head rotation). There are many forum threads indicate that the problem is presented massively and worldwide. 2) Terrible call quality. Sometimes people on the other end can barely hear meespecially if there is an extraneous noise around. 3) For those who got used to and loved the multiple connected devices function from QC35 - its just not here so every time you will have toconnect to another device make sure you manually disconnect from the previous one. Its almost 2019, cmon. PS. I never write bad reviews or return stuff back, thats literally the first time cuz that was really sudden to see such bad quality control for $350 product.Show Less
Reviewed on B&H Photo Video
great noise cancelation but sometimes sensitive
Mar 20, 2019
Fantastic noise cancelation - when the Sony lady announces noise cancelation on what comes then is just mind blowing. You feel like sitting on your sofa at home and the entire family is out for the weekend - alone! Just fantastic, while in reality you are in a NY subway or on a plane. In Train, or walking by an ATM or sometimes without any obvious reasons the sound transmission is interrupted, or even the Sony sound for an announcement in the sp... Show Moreeaker starts. Cable for recharging is realy realy short (why on earth Sony??) and there is only the cable, no charger. I guess because that all wouldnt fit in the nice case. Well fashion comes with a price. The App is kind of funny, it says not connected but you can still control the headphone with the swiping gestures at the side. I think once you adjusted it the App doesnt need to be open and running. It takes a while to get used to the difference between forward and louder - too easy to mix up, but its a great feature to remote control the headphone like that. I keep my Ipad in the pocket all the time. If the sensitivity wouldnt be like that (which I didnt expect at all) I gave it 5stars. But I accept it because I just love that noise cancelation.Show Less
Reviewed on B&H Photo Video
The ones to beat
Oct 19, 2018
I had the Mk1 of these and was very happy with the performance. However, the headband plastic part snapped recently and I needed to buy a replacement. I went through online reviews and tested a whole bunch of the current crop in this same price category (Bose QC2, Sennheiser etc.). After reading the early reviews on this, and having not found any of the competitors to be better to my Mk1s, I pre-ordered these based on positive early reviews. To m... Show Moree, these are better than the Mk1s in every way, and also beat any of the competition that I tried. Comfortable, great sound, long battery life (~30 hrs), and excellent noise cancelling. I've used the companion app on iOS, but I didn't really find that it added much, but you don't really need it to use them anyway. The "personalized" noise cancelling setup from the app didn't really change much for me, at least. Overall super happy with these. Would buy again.Show Less
Reviewed on B&H Photo Video
Best wireless NC headphones!!
Jan 6, 2019
I tried the Bose QC-35 wireless headphones and they were very nice, but they could not stand up to the excellent noise cancelling ability of the Sonys! It will transform your traveling experience from noisy and stressful to quiet and blissful. These are expensive, but its because of the superior quality and technology in them. The touch controls work great, even though I have accidentally tapped them when taking off the headphones. The instant qu... Show Moreiet/ambient sound mode is extremely helpful. By just placing your hand over the ear of the headphone you can silence the music and it also amplified the ambient sound around you for easy conversation with those around you. The battery life is incredible and with just a few minutes of charge you can get 5-8 hours of playtime! The ear cups are very ergonomic and comfortable even for very long usage (4 hours). Great construction and fold up into a small case.Show Less
Reviewed on B&H Photo Video
Sanity Saver
Nov 7, 2019
These headphones saved my sanity. The noise cancellation feature is amazing, it completely canceled out my noisy neighbors during their 3 a.m. shouting matches. Months of anguish have been solved by these headphones. Pros: -Super comfy, even with my glasses and ear piercing -Lightweight -The sound is the best I've ever heard from bluetooth headphones and super customizable -The battery life is phenomenal -The range is amazing, I can walk all ... Show Moreover my apartment with no issues -Ambient Noise and Noise Cancellation are life savers Cons/neutral: -The touch feature takes some getting used to but it's kinda neat -The noise cancellation doesn't cancel out people talking next to you (or at least I haven't figured that out yet) but it does greatly reduce it If you are looking for some peace and quiet from noisey neighbors, cars driving by, or other background annoyances, these headphones are PERFECTShow Less
Reviewed on B&H Photo Video
HD or 360 Reality Audio Amazing, Normal Audio Alright!
Nov 29, 2019
The swipe feature is actually quite handy oppose to some who dislike these functions. The simplicity of using your finger for volume, skip track, etc. is perfectly responsive. Connecting to different BT devices is simple and quick. Phone calls are a breeze to listen and communicate. They are very comfortable and sometimes I do forget I'm wearing large over the ear headphones until my ears start perspiring, ha! The sound of these top sound headpho... Show Morenes price bracket are amazing when hearing Deezer, Tidal, qobuz and nugs hifi/360 music. When you drop your audio to regular tunes streaming the sound will need tweaking with the many options in app to achieve a satisfactory sound for your ears. The charge last more than enough in between charges via 6 inch usb cable. As you can tell, I'm sold on these over ear cans and would recommend for your ears pleasure. Enjoy!Show Less
Reviewed on B&H Photo Video
Fantastic noise-cancelling and efficient power consumption!
Mar 3, 2019
I have owned other noise cancelling headphones before, including Bose and a previous version of Sonys WH series. These are by far the best I have experienced, in terms of how much silence they can produce as soon as you put them on. In addition, the power consumption is very impressive. Over the last few days, I have used them for a few hours (at least 4-5) and the power remained at approximately 80% according to the companion app and the headp... Show Morehone itself. How efficiently these headphones use power is a big factor for me during longer trips. Lastly, they are very well made, are the perfect weight (not too light and flimsy, and not too bulky and heavy). And given they are not your traditional black color, have a more premium look and feel. If you are spending around $350 for a set of noise-cancelling headphones, Id definitely recommend these!Show Less
Reviewed on B&H Photo Video
Best ANC Headphone on the Market
Dec 25, 2019
I tested the B&O H9i, the Bose 700, and Sennheiser PXC 500- Overall I kept the 1000XM3 because of comfort, long battery life, good sound, best app to control the sound on my iPhone, the assistant. It comes with a hard case unlike some of the others and that is a plus too. The sound is not as good as any of my 3 wired audiophile headphones without ANc but it gets reasonably close and the ANC is amazing when flying in a commercial airline, or at wo... Show Morerk where there is distracting noise. It does a great job for what I bought them for. Overall very happy and would recommend to others. One feature I did like about the Bang and Olufsen was the replaceable battery. All liOn batteries will eventually not maintain a charge, what then? I wish all wireless headphones came with replaceable batteries.Show Less
Reviewed on B&H Photo Video
technical issues.
Mar 29, 2019
Ive had my product for a while now and have been loving the sound quality and noise cancellation. However, Ive been increasingly experiencing issues where the sound of my headset cuts out and cuts back in (my device still thinks its connected [maybe it is], so music apps, which would stop when it notices an input disconnect, will continue playing ). This Problem has become more prevalent in the past month. another less frequent problem is this lo... Show Moreud tech screeching sound that occasionally happens (it does not require any sound to be sent through, nor does it even need to be connected to a device yet for this to happen). This didnt happen the first week or two that Ive gotten the device and has slowly been getting worse. I would like a way to rectify the issue if possible.Show Less
Reviewed on B&H Photo Video
Not all they were hyped up to
Dec 27, 2019
My wife bought me these for Christmas and as much as I wanted to love them I didnt. I found that the music sounded nice and very clear they did not provide the experience I was hoping for of getting lost in the music like I did with other headphones. I found that with the noise canceling on there seemed to be a slight digital sound and not as natural like the newer Bose 700 had. I also found that through the various listening modes on the app tha... Show Moret the bass became muddy and almost bottomed out sounding. Overall I ended up returning them as I could not justify even the $220 discounted price she got them for. For that price point I really was expecting something that would immerse me into the music more that I feel than listening to car audio but sadly it wasnt so.Show Less
Reviewed on B&H Photo Video
The best headphones for a reasonable price
Dec 19, 2019
I was between this ones and the Bose since i needed noise cancelling headphones. My first experience was that the design was just perfect fit for me and it was easy to install and connect to my iphone. The noise cancelling in airplanes works perfectly and the ambient sound is perfect to keep listening to any song and hearing any incoming sound. the manual controls to increase or reduce volume, switching songs and ambient sound is really easy and ... Show Morewith one hand. I really recommend this product since the price is one of the lowest for a high quality headphones. Also the audio quality exceeds my expectations. And the battery allows you to use for non-stop for many hours, at least 13 non-stop. Amazing right?Show Less
Reviewed on B&H Photo Video
Everything I every really needed
Dec 13, 2019
Great pair of headphones. I'm a PC gamer so I sit at my desk with another pair of headphones all-day. However, since they're wired, I can't freely move around my room, so the Bluetooth and comfort on these really aid me in productivity. Plus, the ANC on these is one of a kind. The difference is day and night. Allowing ambient noise in took some getting used to though as it sounds super tinny. The dynamic range of these is superb (for a non-audiop... Show Morehile) Do note, if you're anything like me, I didn't think I would care to have my phone and PC connected simultaneously, but I found that as I got phone calls and use my PC a lot, it was a hassle to disconnect and reconnect all the time.Show Less
Reviewed on B&H Photo Video