Sony WH-1000XM3 Wireless Noise-Canceling Over-Ear Headphones (Black)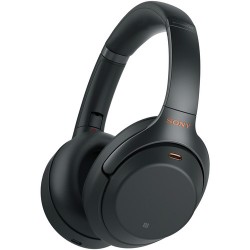 New Headphones
Sep 17, 2019
It's honestly worth the price. It's comfortable although a bit sweaty in the summer. It's noise cancelling which is perfect on public transport. You can also listen to people and music at the same time without being distracted.
Reviewed on Argos.co.uk
Nice looking headphones
Sep 12, 2019
Did a bit of research and it was down to Sony and the Bose. Chose the Sony as they seemed to be more comfortable, but really not much in it
Reviewed on Argos.co.uk
Fantastic comfort and amazing sound.
Sep 6, 2019
Got these as a treat to myself as I've never had any high quality headphones before. These are amazing. I cant put them down! Good service at Argos as well, all very friendly.
Reviewed on Argos.co.uk
Good peace of kit
Sep 6, 2019
Not sure it's as good as all the hype, but if you can afford them then you won't be too disappointed. I wasn't too impressed with with noise cancelling function. My B&W PX are much better. The Sony is very pretty though, very comfortable to wear and relatively easy to use
Reviewed on Argos.co.uk
Fantastic noise cancellation
Sep 5, 2019
I have problems connecting to Alexa, but everything else is fantastic. Battery lasts "forever"
Reviewed on Argos.co.uk
Excellent
Sep 5, 2019
Amazing headphones. Sound quality is great and the handsfree calling is very clear. Noise cancelling feature is the best I've experienced.
Reviewed on Argos.co.uk
Very good headphones!!
Sep 4, 2019
Very pleased with these headphones, noise cancellation is amazing I almost can't hear any nagging from my wife. :)
Reviewed on Argos.co.uk
Brilliant headphones in every way
Aug 30, 2019
I did a lot of research before deciding which headphones to choose, and most reviews pointed me toward the Sony WH-1000XM3. You just will not be disappointed with these cans because they are incredible. They are comfortable, lightweight, quick charging AND they last at least 24 hours on one charge, the noise cancelling is mind blowing and of course the sound quality is sublime. I've compared these with the Bose QC35 II and I prefer these, although the Bose are *slightly* comfier.
Reviewed on Argos.co.uk
great noise cancelling and pretty good sound
Aug 29, 2019
Works as advertised 1st class noise cancelling. Sound is quite good and gets better as the source materiel gets better. a bit bass heavy if that is your thing. Comfortable and you can wear them for long periods of time. Ears will get sweaty if it is hot out. Would buy again
Reviewed on B&H Photo Video
Great noise canceling
Aug 29, 2019
I bought these headphones for traveling. - Great noise canceling - The best sound I've heard from Noise Canceling headphones (I've tried a bunch). The sound is well balanced. - Very comfortable for long trips - So far the battery lasts really long
Reviewed on ThomannMusic.com
Excellent headphones, but that was expected
Aug 28, 2019
The headphones sound great, the noise cancelling is superb, they sound good and are comfy.
Reviewed on Argos.co.uk
Superb sound and noise cancelling
Aug 24, 2019
Excellent headphones with the best noise cancelling and sound quality, the gesture controls take a little time to get used to but once mastered they work well. Although they are expensive, overall they are probably the best you can buy for the money.
Reviewed on Argos.co.uk
The Best
Aug 23, 2019
One of the best Noise Cancellation Headphones out in the market. Very Comfortable to wear and the sound quality is amazing. Can't recommend it enough
Reviewed on Argos.co.uk
Noise Cancelling on headphones is great
Aug 21, 2019
Great headphones they are so comfortable you could wear all day without a break my favourite part is their superb noise cancelling
Reviewed on Argos.co.uk
Overall great, with a few little annoying things
Aug 19, 2019
These headphone have a lot of 5-star qualities, with just a few annoying things that may or may not be dealbreakers depending on how you want to use the headphones. The good stuff: -Very comfortable and lightweight, can be worn for a long time -Excellent battery life -Good sound quality -Nice, compact carrying case -Noise-canceling features feel better on the eardrums than the Bose, Bang & Olufsen, and other models I tried on in the B&H Store.... Show More The Bose headphones in particular felt as if they created a low-pressure chamber over my ears, like they were lightly sucking out the ear drum. These Sony's felt noticeably better. The not good stuff: -Very short Charging cord. Not even a foot long. So short that it can't make it from wall outlet to the floor, and even if you charge on a USB on your computer, the cord is so short that it's awkward. -Can get a little sweaty if you run hot -The play/pause and volume controls are touch activated. For some people this may be a plus, but in the first week of owning the headphones I have accidentally paused or skipped to the next song a least 5 times, usually by inadvertently touching or brushing up against the side of the earpiece. On top of this, there are no physical markings, bumps, or notches on the earpiece that remind you where the command locations are. Hitting the play/pause button means tapping the center of the right earpiece. Of course this task would be simple if the headphones were off your head and you were looking at them. It is much easier said than done when you are wearing the headphones and cannot see exactly where the center is. On multiple occasions I find myself needing to tap 3-4 times to finally hit it in the center to pause the song. It's fairly easy to turn volume up or down by swiping up or down on the right earpiece. But going up or down fast is tedious and requires a whole lot of swiping, and a physical wheel to control volume would be way easier. If Sony really wants to stick with the touch controls, some tiny bumps or grooves on the outside of the headphones that would help so much! Other than the small annoyance of the touch controls, I really like these headphones.Show Less
Reviewed on B&H Photo Video
Great headphones
Aug 15, 2019
Very comfy & easy to set up, sound is decent & can be adjusted in the app. The noise cancelling is brilliant & the level of cancellation can also be adjusted, well built with a very good battery life.
Reviewed on Argos.co.uk
Audiophile Cans Meet New Tech
Aug 14, 2019
I am a Grado headphone addict. I need and demand the best sound production. I have never liked noise cancelling headphones. I considered them gimmicky. I own the Bose older 15s. The sound was hollow and the noise cancellation technology hurst my ears. So I abandoned trying any others for four years. In anticipation of traveling, I overcame my reluctance with NC headphones after internet reviews, and sampled the new Bose 700 at their store. Over... Show Morewhelming treble. Ouch! But better (not great) telephone call sound. Did not buy. Tried these from B & H. Wow! What makes these truly worth it: technology is subordinate to sound. Noise cancellation takes a back seat to sound production. I need the best sound. Thats why at home I listen with Grado cans. I refused to believe the overwhelmingly positive reviews of these Sonys until I tried them over two recent flights on a plane. The newest NC technology with Sony is a game changer. No ear pain! You can easily adjust the degree of noise cancellation with their iPhone app. Youve got to see the options in that app. Customization of NC, sound equalizer and sound reference options! Now I know why Sony is cornering the NC headphone market. Terrific. Highly recommended. Dont believe this review. Try it.Show Less
Reviewed on B&H Photo Video
Beyond Bassy & Bad Bluetooth & Bad App
Aug 13, 2019
It's been said before but bears repeating: these headphones will not maintain passive Bluetooth connections or passively reconnect to devices they've already paired with. Going from phone to tablet to laptop is beyond the capabilities of these headphones without first manually disconnecting from the current device before moving on to the next. It's an unnecessary and frustrating deficiency. Talk on your phone waiting for the plane, sit down, open... Show More the iPad no dice. First go into your phone's BT settings and disconnect. Then go to your iPad settings and manually reconnect. By contrast Bose connect and passively stay connected or passively reconnect to multiple devices as long as they've been paired before. The bass is a joke. It's huge and mushy and overwhelming. Yes you can tweak the EQ in the app oh, the app itself always takes several seconds to re-recognize the headphones even when the connection hasn't been broken but if you happen to go wired then they default back to the big bassy mush instead of retaining what you set in the app. If you're like me and like hearing vocals and dialogue, you're outta luck. The app itself is necessary to really use these things, which, off the bat makes it unwelcome. Why can't the default audio be great? Why does Sony need my data? On top of its intrusion there's the connection latency plus the UI isn't great. Smaller note: the unit's power-on and power-off is a bit slow. So is changing between its noise canceling modes. None of it is instantaneous by any measure even though in every case all you're doing is hitting a button so the latency seems unmotivated. Also, the outer surface of the cans is super sensitive to touch and it's easy to misdirect them by getting a tap or gesture slightly off, so instead of increasing volume you wind up skipping tracks, etc. Also at least for me I felt a lot goofier tapping and swiping these giant headphones than I do when I perform the equivalent gestures on tiny Airpods. (The bigger surface area of these makes them extra susceptible to unintentional swipes and taps whereas with tiny Airpods it's a non-issue.) Went back and forth between these and the Bose QC35II and the Bose 700s and wound up returning the Sonys and going for the QC35II (Bose 700s buttons aren't great, they headphones don't fold, etc. They do look better in reality than in photos, though.) I thought these fell way short of the many glowing reviews I read during my research.Show Less
Reviewed on B&H Photo Video
Excellent ANC, decent sound quality.
Aug 9, 2019
The ANC on the headphones work superbly, the main reason I purchased them. They feel really comfortable while wearing for at least 2 hours. (The longest I have used them in one sitting). Sound is very good for headphones of this type but lose some clarity when using bluetooth. I tend to use them wired to get the best sound from them. Overall, if ANC is most important to you, get these and you won't be disappointed. If it's just music quality you are after, I would probably look elsewhere.
Reviewed on Argos.co.uk
Superb headphones best I've ever had
Aug 8, 2019
Had these bout 5 months and stopped working. Took back to Argos plas coch Wrexham and the staff replaced them and they were lovely and so helpful
Reviewed on Argos.co.uk
Comfortable and great audio quality
Aug 3, 2019
Very comfortable headphones with great noise cancelling. The audio quality is excellent. Haven't really used the google/alexa assistant features but very basic stuff with Siri worked ok. I'm very happy with them.
Reviewed on Argos.co.uk
Xm3's allowed me to hear god
Aug 2, 2019
Amazing headphones sound quality and noice cancelling is unmatched only con would be the touch controls need a bit of work
Reviewed on Argos.co.uk
Eccellent sound
Jul 31, 2019
Very good sound and comfortable bands. Can wear this for hours! Excellent noise cancellation and bass. Worth the money.
Reviewed on Argos.co.uk
My Surroundings Went Away
Jul 29, 2019
The best initial test is to turn its noise-canceling with no music playing. It will amaze you. Next, play music. Woah! Now play with the Sony | Headphone Connect App. You will be satisfied, or at least you should. __ Right now, this is the best I've seen.
Reviewed on B&H Photo Video