Sony WH-1000XM3 Wireless Noise-Canceling Over-Ear Headphones (Black)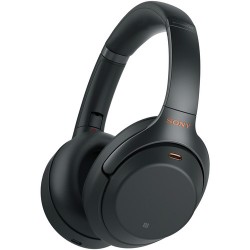 Great headphones
Oct 31, 2019
If you want almost complete silence while flying or commuting, you will not go wrong with this headphones.
Reviewed on Argos.co.uk
Oct 30, 2019
Fantastic headset, completely changing the way I consume music and podcast in the office and at the gym!
Reviewed on Argos.co.uk
Best wireless headphones
Oct 30, 2019
After numerous YouTube reviews and comparisons, I eventually chose these crackers. Wow, I love them, they are so light, comfortable, superb sound, and the ANC is second to none.
Reviewed on Argos.co.uk
They're alright
Oct 25, 2019
High end a bit shrill or pitchy even at lower volume. A bit expensive for what they are. I suppose they are better than my skullcandy crushers but then again there's a considerable price difference.
Reviewed on Argos.co.uk
best noise canceling headphones ever
Oct 23, 2019
These are the best noise canceling headphones I've ever owned very comfortable and just outstanding sound I would highly recommend them. I also Recommend these for married men as the noise canceling is adjustable, which means you can remove voices LOL
Reviewed on Argos.co.uk
Best wireless headphones avail
Oct 23, 2019
Im a picky chooser if high end headphones and I cannot say enough good things about these. For the price all around superb sound, incredible battery life and quality build. Worth the cash.
Reviewed on B&H Photo Video
Generally good but some annoyances
Oct 23, 2019
I use these headphones to listen to streaming video and YouTube music via my computer. The sound is excellent which is what I bought them for. Also, I've tried the noise-canceling in a room with an audible blowing wall-heater, and they quiet its sound dramtically . Good. But several things give trouble. First, Sony used graphics for their instructions and probably hoped that we could look back and forth from instructions to headphones and could... Show More poke things to see what would happen. But no. These are more difficult instructions than usual. Details were glossed over, parts were hard to find. But I got it. I would have learned much faster with standard written instructions. Second, persisting problems come from Sony using the color red to mark parts on the black headphones. It is one of the worst color combinations for seeing clearly. Then they put the left and right labels R and L on the inside of the phones rather than the outside. They used tiny fonts to write the noise canceling label and the on/off label on the left headphone, and the font color seems to be a dark gray on black. Again, after mistakes, I learned it by memorizing the positions of the buttons. Third, it is hard to identify if you have succeeded in turning the headphones off. They use an intermittent brief red light, contrary to most other electronic equipment which does it the right way with a light that stays on when the power is on and turns off when the power is off. Again, I made mistakes for awhile. Fourth, the closed tightly gripping phones are very sensitive to their position on one's head, and they cause noisy feedback and it isn't quick to find the ideal position. Fifth, I wear hearing aids and the very firm pressure on one of the aids causes pain and I have to listen with just the other ear. This problem has not happened with several other headphones (all with cords) I've bought over the years. Overall, because of the good sound quality, which is what a partly deaf person needs, I expect to keep using them despite the need to fiddle with them and to take them off every so often for comfort.Show Less
Reviewed on B&H Photo Video
The sound is just amazing
Oct 23, 2019
The sound quality is amazing! I've used a lot of headsets for music and gaming and these are better than any I have ever used. The app is handy too for adjusting settings and viewing an accurate battery life. The gesture controls work flawlessly. The adjustable noise cancellation is good too so I can hear traffic etc during my commute making them safe to ware wherever I am.
Reviewed on Argos.co.uk
MVP wireless headphone with noise-canceling
Oct 17, 2019
Pros: Battery life is great, noise-canceling is very good. Sensor control is fun. Con: Very short charging USB-C cable. Better than Bose 700 in my opinion.
Reviewed on B&H Photo Video
Amazing noise cancellation, great sound
Oct 4, 2019
So far I have found that these headphones have excellent battery life with noise cancelling on (can't comment with it disabled) lasting several days with lots of use. The noise cancelling is great and I find myself wearing them just to make it quieter. Possibly on the heavy side but comfortable enough to make this a non issue. The sound quality is also good with a customisable EQ.
Reviewed on Argos.co.uk
No regrets
Oct 4, 2019
Absolutely love they headphones! Sound quality is great fits snuggly on my head without causing any pressure after wearing for long periods. Comes with a case so when im out and on the go and dont require them i can pop it in the case and in my handbags.
Reviewed on Argos.co.uk
These headphones are amazing
Oct 4, 2019
Would highly recommend these to anyone who is considering getting them. By far the comfiest headset I've ever had and the sound quality is incredible!
Reviewed on Argos.co.uk
Superb Noise Cancelling
Oct 4, 2019
These headphones are amazing. I work in a busy often noisy open plan office but these headphones just cut all the noise out. Any worries I had about spending a bit more was forgotten the minute I put them on. Worth every penny.
Reviewed on Argos.co.uk
Great sound & outstanding battery life
Oct 3, 2019
I bought these to replace my ageing Beoplay H6 headphones I've had since 2012, and I am not disappointed! The noise cancellation on these is phenomenal. I walk to work along a dual carriageway, and almost everything is blocked out (around 90-95% of the noise). Sound quality is amazing, especially when coupled with the fantastic active NC. Yes these are expensive, but the NC is the best I've seen, battery life is amazing, & sound quality is outstanding. Overall a highly recommended purchase.
Reviewed on Argos.co.uk
Simply excellent
Oct 2, 2019
Great product all round. The sound quality is excellent, they are comfortable, easy to use and detailed very well. Very pleased with this purchase.
Reviewed on Argos.co.uk
Absolutely fabulous!!!
Sep 26, 2019
Let there be no confusion...these are incredible. My first wireless headphones ever and I couldn't be happier about them. The sound is rich and lovely powerful base. The Bose QC35 come close, but still the Sony has advantages when it comes to both sound quality and noise cancellation. Very, very happy indeed and I couldn't recommend them enough.
Reviewed on Argos.co.uk
Excellent piece of audio!
Sep 26, 2019
If you are looking for a mid price range headphone purchase the sony's. These headphones are not only the best sounding but are so comfortable it's insane! The noise counselling is unreal.
Reviewed on Argos.co.uk
As good as the reviews say
Sep 25, 2019
Got these to replace the Sony WH-1000XM2 I had and I'd these are much more comfortable. Sound-wise about the maybe a tad better.
Reviewed on Argos.co.uk
Sep 25, 2019
The headphone are really good, and with an android phone you can take advantage of ldac codac which provides great sound quality via Bluetooth
Reviewed on Argos.co.uk
Excellant Headphones
Sep 24, 2019
Excellant pair of heaphones, fits perfectly around the head, sound quality is amazing. Noice cancelling well mind blowing.
Reviewed on Argos.co.uk
Super
Sep 24, 2019
Had many headphones over the years, these ones are truly awesome. They look good and come in a nice case, feel well made and are comfortable to wear. The sound is superb and noise cancelling blocks everything out. The charge time is super fast and lasts ages. I also love sony connect the app you can download and play around with different settings.
Reviewed on Argos.co.uk
1000XM3 WRLS NOISE-CANCELNG HDPHNS-BLK
Sep 23, 2019
Bought these for my son on his birthday, great quality headphone, sounds great and he loves them, B&H is always my first to go website when I want order something online, they're reliable and fast shipping, thank you.
Reviewed on B&H Photo Video
Better than expected
Sep 18, 2019
The noise cancelling is perfect for the office. Touch control is really easy to use is a feature that makes these headphones stand out. The quick charge is amazing. Sound quality is the usual high standard for Sony.
Reviewed on Argos.co.uk
Expensive, but excellent
Sep 17, 2019
Sound quality, battery and app great. Comfy. Touch controls super convenient. Bluetooth pairing easy. The app gives heaps of control and even equalizer good. Bottom line is if you travel a lot or in noisy environments and want a pair of bluetooth headphones with great audio quality, these won't disappoint, although they are expensive. If you don't travel much or not that fussed about audio quality, you could consider a cheaper non-main brand pair of noise cancellers.
Reviewed on Argos.co.uk