Sony WH-1000XM3 Wireless Noise-Canceling Over-Ear Headphones (Black)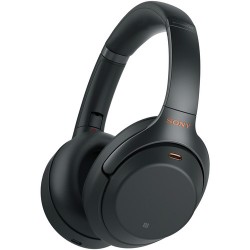 Quality Defined
Jan 14, 2020
These headphones from Sony set the benchmark for noise canceling, comfort, and value. I've worn them for hours at a time and not once did they ever feel uncomfortable. The controls on the right ear are a great innovation and the soundstage is just right for me. Others may not agree especially audiophiles but for the pricepoint I don't think they can be beat.
Reviewed on B&H Photo Video
Simply awesome
Jan 12, 2020
The Sony 1000 xm3 is a Bose beater bar none. The Noise cancelling is the best on the market at the moment. The ear cups are very comfortable and light. The sound is rich with a good balance between high, mid and low frequencies. The downloadable app is full of features including a brilliant bass boost. A joy to use and listen with many features. A must buy.
Reviewed on Argos.co.uk
the best headphones at the best price
Jan 10, 2020
forgot beats bose & the rest these are the best headphones you can at a great price offer noise cancelling bluetooth touch controls with great battery life & what hifi award winners & you can see why
Reviewed on Argos.co.uk
Everything except MIC is great!
Jan 10, 2020
It has best noise cancellation in the current market right now. I'd say everything except microphone is great.
Reviewed on Argos.co.uk
Beautiful sound and noise cancelling heaven!
Jan 10, 2020
These headphones have delighted my ears in impeccable sound quality and the utmost of comfort. The style is really sweet and the addition of the touch controls on the headphones serves well. I have a little bounce in my step when walking so the headphones tend to move in the motion of my head and cause some form of crackling of sorts, I can't say exactly what it is. Also if ambient sound is on be aware of loud noises as the mics begin to distort. All in all, perfect cans for my needs.
Reviewed on Argos.co.uk
Incredible headphones
Jan 10, 2020
Not much more to say than the fact that I absolutely love these headphones. Very comfortable and great sound quality. Highly recommend.
Reviewed on Argos.co.uk
Absolutely amazing
Jan 6, 2020
Absolutely amazing headphones, long battery life, great noise cancelling. Only little problem is not waterproof.
Reviewed on Argos.co.uk
Better than you can imagine
Jan 6, 2020
I got this for a long holiday flight, I don't think I've ever had headphones this good at sound blocking. And didn't even hurt after the 4 hours nonstop use. Kind of amazing if a little £££
Reviewed on Argos.co.uk
Very good sound quality and comfort
Jan 6, 2020
I have compared this product with other competitors' products and decided to buy as it is much comfortable, has better sound quality and noise with a lower price.
Reviewed on Argos.co.uk
Best headphones on the market
Jan 6, 2020
After I watch loads of reviews on YouTube I decided to purchase these headphones. No regret till now after a month of use
Reviewed on Argos.co.uk
Wow
Jan 5, 2020
I didn't expect anything like that, I forgot what music sounds like, Comparing to my old headphones .....no I can't compare Thank you Sony for giving me my music again!
Reviewed on Argos.co.uk
Get these if you can.
Jan 2, 2020
These things are fantastic. Sound is good, NC is state of the art, they are very comfortable, and the battery life is unbelievably long. Just be sure to turn them off after a listening session. Actually I bought a pair for my wife too. She only likes over the ear phones and she has been thrilled with them. Thanks B H!
Reviewed on B&H Photo Video
Very good, but could be improved a little
Jan 2, 2020
These are very good for listening to music and watching videos with high sound equality, especially during long distance traveling. However, you can only connect one device to the headphones at a time,so if you want to listen to music u have to disconnect from one and connect to another, the noise cancelling could be better. They are very comftorble and easy to use I recommend them.
Reviewed on Argos.co.uk
Fantastic sound & great design
Jan 1, 2020
Really good headphones. The sound, design, and features are superb. The noise cancellation works perfectly far better than Bose that I have tested.
Reviewed on Argos.co.uk
Wish I had bought them earlier...
Dec 31, 2019
Industry leading sound and noise cancelling. An excellent purchase for a top pair of earphones. I have used Bose in the past but having read a number of reviews it was apparent that Sony had the edge and I was not disappointed. Would easily recommend.
Reviewed on Argos.co.uk
I can now watch TV without interruptions
Dec 31, 2019
Love the purchase I made for my hubby, he now watches his videos/films on his phone without any noise and it means I can now watch TV without any interruptions! He loves them too, said they are very comfortable.
Reviewed on Argos.co.uk
Step son loved them
Dec 30, 2019
Stepson loved them. Uses them to play his electric guitar and not disturb his housemates while away at uni.
Reviewed on Argos.co.uk
Premium Product - Delivers on Sound and Looks
Dec 30, 2019
Only let down is the now well documented buzzing in the right ear when active noise cancelling is on... At it's worst with no music. Annoying but can live with! Otherwise good product.
Reviewed on Argos.co.uk
Brilliant sound
Dec 30, 2019
amazing headphones really good sound + the noise-cancelling his out of this world battery life brilliant well worth the money I paid for them.
Reviewed on Argos.co.uk
Good sound quality
Dec 30, 2019
Sounds better than my QC35 II specially the base and mid but not as comfortable. Love how you could adjust the equalizer thru the app. If only you could connect it to 2 devices same at the same time then it would get a higher rating from me.
Reviewed on Argos.co.uk
Great Headphones
Dec 29, 2019
I own several headphones and this is my favorite. it's got the best combination of good/great comfort, noice cancellation, and sound quality.
Reviewed on B&H Photo Video
Great Isolation - No Need to Taste Earwax
Dec 28, 2019
Okay, so all the reviews that talk about how good these are are largely dead-on. Since no one is making really good bluetooth canal phones (*cough* Etymotic *cough*), Ive been wanting to get some good noise canceling over-ear headphones for a while now. Mostly for work, but also for when I travel. How good is the noise isolation with these? Almost as good as the passive isolation from Etymotic in-ear canal phones when you get a good seal. That ... Show Moresaid, theyre more comfortable than Etys, and you dont have to lick something that has your own earwax on it to get that noise isolation. On a bus in Seattle, most of the bus noises disappear. You can still hear people talking right next to you, although their volumes are greatly reduced. If you sit close to the engine, some of the hum gets through. Sitting in a cafe theyre amazing, although, again, if someone is talking right next to you, youll hear it. At work I got to really test them over the holidays when I had to work through my companys holiday party happening 50 feet away from me. I could hear it, but it wasnt that loud, and I was able to work comfortably. Day-to-day at work, theyre comfortable to wear all day long, and after being on all day, the battery drops by about 10%. Im not an audiophile, but the sounds on these seems really good. Opera, pop, R&B, hiphop, country, rock, folk, jazz, it all sounds amazing. Definitely worth the money. ***** Things that could be improved: The case: while the case is nice, for $300+, Sony should really include an actual hard case. I wouldnt want to put that case in a tightly packed suitcase, at least not with the headphones inside. The charging cable: Sonys included USB-C charging cable is, Im not kidding, 8 inches long. So unless youre charging off a USB hub or your laptops ports, good luck having that reach anywhere youd want to leave your expensive headphones to charge. Then they have the gall to say in the manual that other charging cables may not work. I bought a pair of Anker USB-C cables that work fine (no surprise). Holy moly Sony, at least include an 18 inch cable, if not a 3 foot one, like the rest of the world. Build quality: as has been commented elsewhere, the build quality on these doesnt *feel* that high end. Time will tell how well they last, but dont feel as expensive as they are. Head-size adjustment steps: two points here. 1) The number of steps should be doubled, as I found my ideal adjustment is likely between two of the existing steps. Like I said above, theyre still comfortable to wear all day, but I kept adjusting them for the first week or so to find a slightly better fit. 2) They dont fit in the case unless the head-size adjustment is collapsed, which means you have to re-adjust them each time. Not that big of a deal, but also they dont adjust as effortlessly as something like the AKG k240ss. Portability: this is petty, but even collapsed down and in their case, these are still too big to carry around in a backpack when youve already got a laptop, a couple of books, and a bunch of other odds and ends. Its mostly a compliment to how good these sound that I want to be able to carry around full-sized headphones, but short of another bag for these or switching to a bigger backpack, alas, they will live at my job and come with me when I travel.Show Less
Reviewed on B&H Photo Video
Not all they were hyped up to
Dec 27, 2019
My wife bought me these for Christmas and as much as I wanted to love them I didnt. I found that the music sounded nice and very clear they did not provide the experience I was hoping for of getting lost in the music like I did with other headphones. I found that with the noise canceling on there seemed to be a slight digital sound and not as natural like the newer Bose 700 had. I also found that through the various listening modes on the app tha... Show Moret the bass became muddy and almost bottomed out sounding. Overall I ended up returning them as I could not justify even the $220 discounted price she got them for. For that price point I really was expecting something that would immerse me into the music more that I feel than listening to car audio but sadly it wasnt so.Show Less
Reviewed on B&H Photo Video
Good upgrade but not 100 percent there yet
Dec 25, 2019
Better in every respect than my five year old Sony NR predecessors. Sound is very good, but has less definition and musicality compared to my non-NR Grados and less detailed and balanced through upper, middle and low registers than the new Bose NR 700s. Noise reduction is excellent. Controls are confusing and hard to work consistently. Very good product but not as world-beating as I hoped.
Reviewed on B&H Photo Video