Sony 128GB NW-WM1A Walkman - High-Resolution Digital Music Player (Black)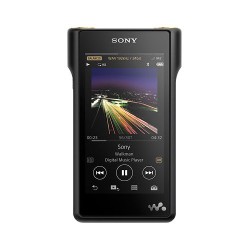 really worth it.
Jun 28, 2019
had an NW A-45, which had a better sound than my iBasso DX90. Reviews were correct that this WM 1a sounded even better than the A-45. it does. Using Sony MDR Z7's, Sennheiser HD 800's and Sony WH1000mx3's. Got the sony kimber-based aftermarket cable ( i'm very into cable for opening up and smoothing sound. ) cable a quarter-better over stock, and that's more than i'd hoped for. listening to classical music -- string quartets and symphonic pie... Show Moreces. some opera and art song. some '50's jazz and '30's movie music and pop. i don't have any modern pop or rock, so i can't speak on that. using bluetooth while i'm out in the world. the sony's are very good and the bluetooth on this and on the NW A-45 is excellent. the sound i'm getting from the WM-1a for-sure exceeds the home-fi vinyl setups i had back in the day. in fact, it would have been many thousands of dollars to approach it, if it would have been possible at all. and, later, would have died to have this good a sound even in 1990, or even with what i thought was a decent iBasso DX90 sound, even last year. a very satisfying purchase.Show Less
Reviewed on B&H Photo Video
Superb unit that works perfectly
Oct 25, 2018
I have been using this unit for around a month now and ts by far the best sounding portable device I have found to date. The sound quality is stunning and both balanced and unbalanced outputs work fine. I have no idea what the other reviewer was doing but the unit works brilliantly and the sound is better that the first generation excellent high res Sony players. The memory is also expandable which is a terrific feature. Yes its more costly than ... Show Moresome units, but you can see/hear just where the money has been spent. The battery life is also great, so if you love great music heard in the best possible way, this is a great buyShow Less
Reviewed on B&H Photo Video
No balanced output signal at all
Sep 1, 2017
I have a Sony XBA-Z5 with regular 3.5mm plug cable and Kimber Kable with 4.4mm balanced plug. Regular output runs ok but zero signal from balanced output -- Not even show Balanced icon on the screen. Called Sony, Sony said there is no fancy setup there. Balanced output should work right after 4.4mm plug plugged in. This is so disappointing -- after 8 months waiting and ended up with this. I strongly recommend owners at least try balanced output once to make sure there is no drama here. Of course the rest part of the Walkman works amazing.
Reviewed on B&H Photo Video
Outperforms much more expensive players
May 29, 2019
I purchased this unit after purchasing and returning an Astrel & Kern SP 1000M. The SP 1000M costs over double the cost of the Sony. The sound quality from both players is excellent. I found the operating system of the Sony better, the ability to connect to my car stereo (both via USB and Bluetooth) superior and the battery life of the Sony far better. The only knock on the Sony is the inability to stream Tidal which was a nice feature of the Astrel & Kern. That aside the Sony is a far better player for me anyway.
Reviewed on B&H Photo Video
totally worth it
Jul 1, 2019
playing classical: orchestra and string quartets. some opera and some 1930's pop. no modern pop or rock at all. presence and focus. what had had a harsh edge resolved into depth. digitized 78's sound more like modern productions.
Reviewed on B&H Photo Video