Sony XB550AP EXTRA BASS Headphones (Black)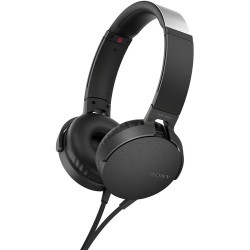 Strong potential but absolutely need EQ
Aug 23, 2019
Out of the box the sound is poor and imbalanced with too much emphasis on the lower frequencies. However with some equalizing you can turn them into something spectacular. I use them on my PC so I installed APO (EQ) and Peace GUI and after some adjustments I got a really good sound with strong bass, solid mids and clear highs. Comfort is good with very minor pressure pain after hours of use; microphone not tested, also only used inside. Summary: EQ turns these from poor to spectacular sounding.
Reviewed on Argos.co.uk
they sound good
May 30, 2018
I have got many Sony headphones over the years and these are by far the best one's I've got so far. They are 100% worth the price. The build quality is the strongest across I've come across. I have already recommended them to a freind and would strongly advise anyone else to get them. They are great for listening to music stationary, travelling, sport etc. I also currently use them for producing and engineering, although I wouldn't recommend that I still get a clean crisp sound.
Reviewed on Argos.co.uk
Excellent headphones
Jan 1, 2018
I originally wanted noise cancelling headphones but these have good enough noise insulation that I don't miss the noise cancelling. They're very comfortable even for long periods, the mic is excellent for phone calls and the sound quality is great. They also look good and they're sturdy - my headphones tend to get bashed around a lot so that's very important. Appreciated being able to pick them and reserve online and then pop in and buy them the same day.
Reviewed on Argos.co.uk
Tempted to get myself a pair!
Oct 16, 2018
Brought as a Christmas present for my daughter to use when running. Brought them due to being able to change tracks on the lead instead of having to rummage around on your phone. Lovely colour and very handy that they can be folded down to fit into a bag easier. Didn't give as many stars for sound or comfort as I haven't used them myself, although I'm very tempted to buy myself a pair after having a good look
Reviewed on Argos.co.uk
Brilliant sound and comfortable
Sep 5, 2018
Really pleased with these. Great sound quality and very comfortable, even after hours. I use them for playing and recording guitar and bass tracks, and they've so far proved perfect for the job. Brilliant value for money. If you're using them for anything other then laptop use, Then I'd recommend these with the 3.5mm jack. Unless you're certain you've got Bluetooth on your amp, mp3 player etc.
Reviewed on Argos.co.uk
Heavy bass
Sep 22, 2019
Great headphones, good quality bass and not too overpowering. The headphones can be a little uncomfortable whilst wearing thicker framed glasses, luckily for me I only need mine for reading. At first the headphones did feel a bit tight on the ears but seemed to slacken to be comfortable enough, the cushioning on the head band helps being a bald man.
Reviewed on Argos.co.uk
Great bass but not overpowering
Jun 19, 2019
This is a comfortable and great delivery of sound with just the right amount of bass to liven up all kinds of music. It is comfortable to wear and for the cost sounds like headsets many times the cost of this great Sony headset. I am so glad that B&H had this in their inventory for me to purchase and will enjoy it for many years to come.
Reviewed on B&H Photo Video
Brilliant
Jul 4, 2019
Bought for my hubby as he cannot use 'in earphones' because he wears hearing aids. He likes to listen to music through his tablet; I'm not a fan of his choice of music genre! He says that listening to music through these headphones improves the sound quality too. Very, very good!
Reviewed on Argos.co.uk
Not as advertised on website.
Feb 7, 2019
I really wanted the over ear type of headphones which it said on the website that these were. Said on the receipt over ear headphones but on the box it said on ear ! Had to return them for a full refund which was given without question. Really nice member of staff on till.
Reviewed on Argos.co.uk
The bass is amazing and worth the money
Aug 16, 2017
I got these headphones for a gift for a friend and the bass and sound is amazing, any music sounds good through them and the wire isn't too long or too short, the colour (red) is a lovely matte red, they look amazing on and are very stylish, very impressed with them.
Reviewed on Argos.co.uk
Excellent headphones.
Aug 10, 2018
These headphones sound great are very comfortable. Rich bass with no distortion even at high volume, and I do like it loud... you dont listen to Five Finger Death Punch at low volume! Would highly recommend these headphones. Great price and quality.
Reviewed on Argos.co.uk
Exactly what I needed!
Dec 29, 2017
They're just what I needed, I like to listen to my music loud and feel like they're secure to my ears, the leather effect cushions are very comfy! I also love the finish on the headphones, it makes them feel very premium and sturdy.
Reviewed on Argos.co.uk
Sony Earphones give great sound
Mar 21, 2020
I bought these earphones for my teenager, who tells me that the sound quality is great and the earphones themselves are comfortable too. Also, once he is wearing the earphones I cannot hear what he is listening to! Great!!
Reviewed on Argos.co.uk
Great sound.
Sep 12, 2019
Great sound. Bit uncomfortable on top of head if wearing for long time but only a niggle and ear pieces are good. Love that they fold up. Shame doesn't have protective carry bag but been using box came in as interim solution.
Reviewed on Argos.co.uk
Gifts for Kids
Jan 6, 2018
Got 2 pairs in different colours for my son's aged 6 & 9. Both were really happy and pleased with how they work - they are not at the stage of having to have the 'right' thing however, so always likely to be well received!
Reviewed on Argos.co.uk
Sony Headphones
Jul 19, 2019
Sound quality superb what I would expect from Sony! Fit is good and comfortable especially for extended wear time. Value for money I would recommend these if looking for quality headphones at a good value price point
Reviewed on Argos.co.uk
Sony for me
Jul 4, 2019
Have had this product before and was very impressed with the sound quality, on the different devices I have. I also use it to take calls when plugged into my mobile phone, with no trouble having a conversation.
Reviewed on Argos.co.uk
sony MDR XB55OAP on ear headphones Black
Jan 5, 2019
Bought for xmas present for hubby he was very happy with them .He would recomend them as an excellent buy for sound and blocks out all surrounding noise. Very comfortable to wear and all round winner .
Reviewed on Argos.co.uk
The headphones are adequate
Jul 27, 2018
Good value for the product. Works well, only quibble is that there was no "inline"/microphone, so I could not use them with my phone to make calls. That was the main reason, why I purchased them.
Reviewed on Argos.co.uk
Absolutely fantastic headphones
Jul 11, 2018
This is fantastic product. I am a fan of bass headphones and what can I say Sony certainly delivered with the creation of this product. Absolutely love them. Great for running with.
Reviewed on Argos.co.uk
Really good but slightly big
Jan 4, 2019
The headphones are really well made and the sound quality is great. The only problem I have is that thry are quite big and so they aren't as stable on your head as they could be.
Reviewed on Argos.co.uk
Dec 30, 2018
Bought for my husband for Christmas. He finds them very good quality and very comfortable. Sound is good and the best thing for me is I can't hear any music coming from them!
Reviewed on Argos.co.uk
Great option if you don't want wireless
Sep 18, 2019
I bought these for my 10 year old nephew , I was worried that I hadn't got the right thing but he loves them. He is a real gamer and music listener so high praise indeed!
Reviewed on Argos.co.uk
Sound quality was great and very comfortable
Jan 7, 2019
The sound was great and were very comfortable when I read disruption got what it said could not be happier will go back and get what I need at Argos quality was good
Reviewed on Argos.co.uk