Marshall Major III Wireless On-Ear Headphones (Black)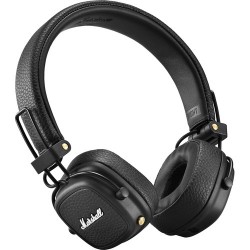 Good design
Feb 17, 2020
I love the design , pretty good sound quality. it's really convenient because of bluetooth. But there is only one button to cotroll all fuction on headphone , so i have to controll it really precisely.
Reviewed on Argos.co.uk
Jan 17, 2020
My bf loves them these headphones look good and the structure it's flexible and resistent
Reviewed on Argos.co.uk
Under rated brand always great
Jan 10, 2020
This is my third Marshall Headphones purchase. My first bluetooth one. I have to say that this brand hasn't failed to impress. The battery life on these is insanely good. No trouble connecting to my iPhone, and the controls work brilliantly - one button, multi functions. Brilliant headphones. Bass is punchy and warm, mids and treble seem perfectly balanced too. Awesome.
Reviewed on Argos.co.uk
Excellent sound and build quality
Jan 10, 2020
I was dubious moving to a Bluetooth set of headphones but I was wrong these headphones sound superb and last for ages on one charge
Reviewed on Argos.co.uk
Brill headphones
Jan 6, 2020
Bought for son for Xmas. He loves them. The battery life is epic. The on/off button is also the forward/back and volume up/down button like a joystick on a game controller. Bought in sale.
Reviewed on Argos.co.uk
Super cool aesthetic and cooler sound quality
Jan 6, 2020
Lovely pair of headphones with great quality sound. Could be a tad louder but as they cover your whole ear external sounds are blocked out pretty well
Reviewed on Argos.co.uk
Exactly what I was after!
Jan 6, 2020
Good quality sound, comfortable and long battery life! Whilst everybody is getting airpods these look classic and are worth every penny.
Reviewed on Argos.co.uk
Look great and are very comfortable.
Dec 31, 2019
These are an excellent set of headphones. They look cool, retro and subtle. The sound is great and Bluetooth connection strong with an added option of connecting wired if the battery runs out. That said the battery life is good. Got them on offer, a really good purchase.
Reviewed on Argos.co.uk
Very good features
Dec 31, 2019
Excellent headphones got the most for our money, theses were on offer and last a long time. My son was very pleased!
Reviewed on Argos.co.uk
Bought as present
Dec 31, 2019
I bought these headphones as a present, and for once seem to have got it right. I'm told the sound quality is great, they are comfortable with good battery life.
Reviewed on Argos.co.uk
Headphones look great, decent sound quality
Dec 30, 2019
These are really nice looking headphones and the sound quality from them is good. They sit on the ears quite firmly which takes a little getting used to but fine after having them on for a while.
Reviewed on Argos.co.uk
Amazing sound!
Dec 30, 2019
Brilliant headphones! The sound is amazing. I was always sceptical about getting Bluetooth headphone because a lot of people say Bluetooth sound quality is never as good and I have tried some of the leading brands for Bluetooth headphones but these are by far the best and they are so much cheaper. Not overpriced like other brands that go on sale for nearly £300. They look great too and fold away easily. I love the little gold button on the back that you can control the music from.
Reviewed on Argos.co.uk
Perfect present!
Dec 29, 2019
Excellent headphones and maybe the best I've ever bought. Really comfortable and Argos insurance was an affordable add on.
Reviewed on Argos.co.uk
A great headphone for the price
Dec 23, 2019
Everything I wanted in a headphone for my girlfriend, Light, comfortable, great sound, wi fi and a cable. Of course if you spend another $100 the next pair from Marshall will have more bass.
Reviewed on B&H Photo Video
Prince of Music
Dec 10, 2019
I am really really different type of maniac about sound quality. So you can find your best music in this. Comfort on your ear. One of Best Sounding headphones. Dont think about purchase. Just purchase.
Reviewed on B&H Photo Video
Great Sound & Very Comfortable
Nov 7, 2019
I brought these Headphones as a present for my daughter and she tells me that they give Great Sound & are Very Comfortable to ware, so much so I am actually considering buying some for myself
Reviewed on Argos.co.uk
Reasonable price, nice fit
Sep 13, 2019
Perfectly fits. I can use it all day. Bass quality might be better but it's ok for this price.
Reviewed on B&H Photo Video
Marshall Major III On-Ear Bluetooth Headphones - B
Aug 8, 2019
Marshall Major III On-Ear Bluetooth Headphones - Black very good sound battery life great love them
Reviewed on Argos.co.uk
Good solution
Jun 27, 2019
I like them, but the compact size compromises a bit of comfort since they rest on the ears.
Reviewed on ThomannMusic.com
I liked them, my husband didn't
May 30, 2019
I bought these as a gitt, but my husand tried on a friend's pair and found them uncomfortable, so I returned them. He found that they sat uncomfortably and did not block enough noise.
Reviewed on Argos.co.uk
Marshall Major III Bluetooth Headphone
May 22, 2019
The Major III is better than the Major II that I had a couple years ago. Soundwise, the upper treble (6 khz and above) and lower bass (40 hz and below) are a little weak compared to the average hi-fi or flagship headphone, but boosting those is very simple with any phone and decent equalizer. The result is a very clean sound - highly recommended at the price. The Bluetooth paired instantly with my iPhone, and didnt have any glitches when walking ... Show Morearound close by, although I didnt stress-test the connection for distance or interference in industrial areas. The Major III is lightweight, very comfortable, has useful isolation, and seems very well made. Always get the genuine article!Show Less
Reviewed on B&H Photo Video
Purchased for husbands birthday present
May 8, 2019
Got these headphones for my husband, he seems to like them but has said after long wear they do rub a bit, the sound quality is ok but I work in music so they aren't the best quality for me.
Reviewed on Argos.co.uk
May 1, 2019
Great headphones. Sounds quality is amazing but they can get uncomfortable if worn for a long time. Overall, really good value for money and they look amazing:)
Reviewed on Argos.co.uk
Perfect fit and good sound quality
Apr 21, 2019
Perfect fit of headphones, really good sound quality. Easy to use, one button that has lots of different functions, connects quickly to my phone's Bluetooth to play my music. Very happy with these headphones!
Reviewed on Argos.co.uk