JBL LIVE 400BT Wireless On-Ear Headphones (Black)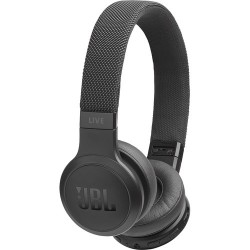 Sound great but hurts my ear after awhile
Jan 23, 2020
I wanted to love these but after 2+ hours they start to hurt my ear. The cushion part pushes my ear flap down and causes a lot of pain. I have small ears and was hoping these would be my go to but you have to take them off and wiggly your ears every so often. Sound quality was good and I like that they are bluetooth, have a mic, and you can plug in regular into computers or airplane tv's really easy.
Reviewed on B&H Photo Video
Does not fit my ear comfortably
Jan 22, 2020
I was spoiled by the 650 series and this one doesn't fit over my ear comfortably so I am returning it.
Reviewed on B&H Photo Video
Good sound quality, odd dropout sometimes
Jan 20, 2020
By and large, I'm very happy with these. They hold a charge well (forgot to turn them off overnight and they still had 73% over 24 hours later on standby), the sound quality (especially with the equalizer on the iPhone) is good, and they're pretty comfortable. They're not something I can wear when doing activities that require a lot of head movements: I have found they are difficult to keep over my ears if I'm doing housework or something. I do h... Show Moreave some slight problems connecting from time to time: at least once, Settings said they were connected but I was unable to get the iPhone 7 to use them for a phone call or they would play a few minutes and then drop the music I was listening and I would have to reconnect several timesI think I finally gave up and quit listening to music. But these have been rare instances and I haven't really studied it enough to figure out what kind of interference or other issue may have been factors. These are mostly minor complaints: I would still recommend them to a friend.Show Less
Reviewed on B&H Photo Video
Perfect
Jan 17, 2020
This just works. Its easy to connect to Bluetooth on my tablets and iPod. Its small and comfortable. I love it!
Reviewed on B&H Photo Video
No need for noise cancelling
Jan 14, 2020
These headphones do a very good job at isolating ambient sounds but also have the option of integrating them back through the unit electronically which is great for listing out for street noise or announcements etc. Sound is decent for a small unit but not as rich as I'd hoped for. Lighter in weight than the over ear cousin but haven't worn them for long periods so can't say if they begin to hurt the ear on longer journeys. If you're looking at ... Show Morethese I would also check out the newer addition 750btnc with noise cancelling for a relatively small increase. I purchased these on the daily deal so happy with the price $$Show Less
Reviewed on B&H Photo Video
Bad audio quality
Nov 10, 2019
Good functions, but bad audio quality. I have JBLT450 and it's much better quality than this. And my Sennheiser CX 5.00i is thousand better.
Reviewed on B&H Photo Video
Ridiculously good for the price & size
May 7, 2019
Even as a snobby audiophile, theres a lot to love about these. I was in search of a good set of cans that I could travel with, at a reasonable price as theyd see road wear and tear. These are super compact, have great clarity, and fantastic stereo separation. Expectations have been exceeded. They are slightly bass heavy, as thats whats in-style, but its not overbearing-- the bass is clean, punchy, and actually a lot of fun for EDM tracks. Throw on some classic rock like Pink Floyd, and youll experience great tonal definition and musicality, with a lot of vibrance on the guitars.
Reviewed on B&H Photo Video