Beats by Dr. Dre Beats EP On-Ear Headphones (Black)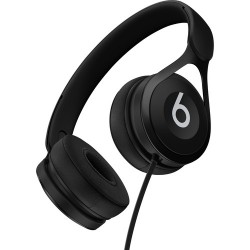 Nice product!
Dec 22, 2016
These are great headphones. Especially for the price. Excellent sound quality as you might expect from the Beats line. Why 4 stars? I was hoping for a bit longer cable. Also a right angle adaptor would be nice as I don't like using my laptop with the straight adaptor for fear of an unintended tweak on the cable and potential damage to the jack. Lastly, they do fit quite snugly for my larger head circumference and, although the earpads a very comfortable, after a couple of hours I need to remove them for a bit. I have them adjusted all the way out.
Reviewed on B&H Photo Video
Amazing!
Oct 17, 2017
I have wanted a pair of Beats headphones for a while now. I was confused with all the different designs and models, but after reading some reviews, it was obvious that the Beats EP would be perfect for me! I couldn't wait to get the product home and begin using them. They are presented in a very sturdy box and come in their own little pouch (which I am using as a case to store them when not in use). The headphones themselves are amazing, they have are bold, lightweight, unobtrusive and sound fab
Reviewed on Argos.co.uk
Poor build, poor customer service
Nov 20, 2019
Got these (in white) 1 month ago for my birthday. Upon opening I noticed some notches on the cable that looked as if they'd been caused by whatever tool used to cut the cable to size had snagged the rubber coating a few times. I thought nothing of it as it still worked. Now, 1 month later one of these snags have opened up exposing the interior cabling. Clear design flaw but staff in store have refused to exchange, claiming its general wear and tear. Wear and tear doesn't happen in 30 days.
Reviewed on Argos.co.uk
Beats headphones
May 30, 2018
Very disappointed with these.theres not much difference in my chearper wireless non brand name..That's what your paying for I suppose the stupid name. They are tight are start to hurt your ears after a while Maybe this might sound strange to some but my god the beat of my heartbeat is so annoying while I'm searching for something on you tube to watch or just going through my music it is so loud ! Worse headphones I've ever brought I'm sorry to say and I've been through a lot .
Reviewed on Argos.co.uk
Expensive don't last
Jul 18, 2019
After 7 months on his first pair the adjustable ears started becoming lose on one side replaced thinking it was a bad batch. Same thing happened again after 7 months,so I'm expecting to have to change them again in 7 months. Same bit breaks serious manufacturing fault. My son doesn't understand that getting the same item all the time could result in breakage after a few months and only wants these. Should be made to at least last their manufacturing warrrenty if nothing else.
Reviewed on Argos.co.uk
Beats EP - Should you buy them?
Nov 23, 2017
I have been very impressed with the Beats EP, these are the less expensive Beats headphones and I was hesitant to buy them. However, they fit very well and the quality of music is amazing, it is clear and the base is very good. The music experience is submissive. You feel engaged with the music. I wear these headphones in a noisy gym and they do a good job at cancelling out the noise of the gym music (not 100% but good enough) and the music is clear on a loud setting.
Reviewed on Argos.co.uk
Beats for £80!
Mar 23, 2017
Was looking into getting some noise cancelling headphone although they are all over £300! Saw a advert for these in my local bus station and looked into getting them. These do a very good job of cancelling the noise even on a airplane. These are light weight and perfect for travel. These have the same sound quality and noise cancelling as the Beats Solo. My only problem is that they don't currently offer a wireless version and they don't fold down any smaller.
Reviewed on Argos.co.uk
Uncomfortable and poor sound quality
Jan 24, 2019
I found these headphones uncomfortable to wear for long periods over my head and on my ears and I'm quite petite. I also thought these were parallel in quality to a relatively cheap pair. Sound quality was ok at best but noise isolation was poor, and noise cancelling was non-existant! In general I would have thought these headphones were alright for a tenner, but for £50 you could have a much better pair. Unfortunate because Beats are a good brand.
Reviewed on Argos.co.uk
Beats headphones ordered from argos
Nov 9, 2016
The sound quality beats all other headphones. Being amazed by the service of argos the product pushed it to the top making me feel ultimately satisfied. Once you use beats you can never listen to anything the same again. It brings music to life. Not only this, it's comfortability is absolutely amazing. It fits perfectly to the ear with a soft cushion making you feel comfortable whilst you rock out to the rhythm of the beat. Definitely recommended
Reviewed on Argos.co.uk
My headphones are fab keep getting asked about
Nov 14, 2019
I love my new beats headfones they beat all my headfones the looks the sounds they are so so real like in sound so smooth soft and it s like I am fliying with my sounds its like I am walking in thin air when I lisen with my headfones when I am out and about with my beats on the world is calmer one I so love my beats and they go every where with me in doors out doors via boat or via flight evean in my dreams .kind regards naseem.
Reviewed on Argos.co.uk
My delight at Beats headphones
Oct 17, 2017
Your product quality is good, the price was competitive, the locality of your store is very accessible, your business "setup" allows transactions to flow smoothly and the attentive attitude by your staff means that we will use your facility on a first "call" basis in the future. Face to face dealings with your staff was efficient and a pleasure after dealings with a worldwide supplier and their couriers which became unacceptable.
Reviewed on Argos.co.uk
Great Sound, Great Price!
Jun 5, 2017
I use these to listen to music while I work on my computer. The sound quality is great for the price. These headphones are NOT noise canceling as I can still hear conversations while they are playing music BUT I actually prefer this so it works great for me. I recommend these headphones for recreational users. I would imagine that a sound professional would probably want something a little bit more noise canceling and as expensive.
Reviewed on B&H Photo Video
Excellent gift for autistic brother
Dec 31, 2017
We purchased these for my husband's you her brother (18) He is autistic and loves listening to music without hearing background noise. The function of these headphones enables him to happily enjoy his music... although you do have to prod him when you want his attention! The colour is a brilliant vibrant red and very 'trendy' We purchased these on the 'click and collect ' and it was super easy and convienent to collect
Reviewed on Argos.co.uk
True sounds.
Nov 1, 2016
I wanted something more upmarket from types and styles of headphones available so i chose Beats. They are comfortable and do restrict a large part of external noise, and that's good if you don't want to be run over on the road. I use them on my phone, lap-top and XBox and all in all good sound and value for the price. Enjoy. They come in a handy soft material protection bag and also in a sturdy and handsome box.
Reviewed on Argos.co.uk
Great comfort, could be louder but good value
Oct 31, 2017
This is my first pair of over ear headphones. Making the switch was very different, but ultimately the comfort of the headphones swayed it. The only issue I have itsthe volume but as I'm used to a different type of headphone I'm sure this is just a personal problem. They sounds slightly muffled and when turned up the full way I still feel they are too quiet for their potential. All around good price and good buy.
Reviewed on Argos.co.uk
Beats headphones
Jan 19, 2017
I bought these for my daughter, she is very pleased with them. They were actually bought to replace her old beats. She feels the quality is even better now. They are expensive, compared to other headphones available, you are paying for quality and the brand name, but my daughter uses them regularly. They are comfortable to wear for long periods, and the colour is a lovely vibrant red, so I am happy with my purchase.
Reviewed on Argos.co.uk
Excellent
Apr 20, 2017
In terms of this brand of headphones these are very reasonably priced when you see what they might cost elsewhere other than Argos . They are very comfortable to wear and when listening to your favourite music at least they block out sound around about you . Although this brand of headphones may seem to be rather expensive but I assure you that these headphones are worth the money .
Reviewed on Argos.co.uk
Prefect in ever way
Jan 5, 2018
Having purchased "beats for other family members thought these would be a great option for a gift for my father who wanted to listen to music on his ipad with our ya all having to listers !! Well let just say it's good news all round , happy father his extremely happy with the sound/look/fit and were a happy family not having to listers to his music -5 star And a great price
Reviewed on Argos.co.uk
Great sounding headphones.
Jan 24, 2019
Beats headphones are one of the best out there so I was expecting a great sounding pair of headphones and that's what you get with these.crisp clear sound with a rich base brings music to life.comfortable to wear and with a decent length cable.will fit any device with a 3.5 mm headphone jack including phones, tablets ,televisions etc. Very good headphones for the price.
Reviewed on Argos.co.uk
Nice design
Jul 26, 2017
It looks nice visually but the sound is not as good as expected. The headphones are not that loud and the bass quality is mediocre could do with improving. They are not very comfortable either they hurt my ears could do with improving the comfortorbility could do with improving. All in all they are good but there ate better headphones out there.
Reviewed on Argos.co.uk
Fantastic quality headphones
Dec 31, 2017
I bought these as a Christmas gift for my Mum as she needed a pair to use on plains, while traveling and on holiday. She says they are extremely comfortable, easy to use and adjust and have fantastic at cancelling any background or outside noise. If you need a really decent pair of quality headphones I would definitely recommend these!
Reviewed on Argos.co.uk
I love my Beats!
Jul 24, 2017
I use my Beats headphones to listen to music. It amplifies details I had never heard before. The headphones are comfortable on my head and don't slip off. I also use them when I want some peace and quiet. They block out loud atmosphere noises like rumbling trucks. My family always asks to borrow them. I also love the red color.
Reviewed on B&H Photo Video
Do not buy - broken within 10 months
Nov 3, 2019
These were bought for my son for Christmas. After 10 months of mild usage the connector from the headphones to the iPhone/iPad broke. Argos store not interested in my issue and would not replace or refund as said it was accidental damage. Very disappointed with the quality of the product and Argos - one very unhappy customer.
Reviewed on Argos.co.uk
** The Bees Knees **
Jan 28, 2017
What a Gem of a find..these are worth every penny! They are very substantial, the headband has a very soft cushioned padding. They feel a little heavy in your hand, but are not heavy at all when worn. The sound quality by far outshines any other brand I have owned!! So glad I found thes..worth every penny...outstanding!!
Reviewed on Argos.co.uk