Sennheiser Momentum 2 Bluetooth Over-Ear Wireless Headphone with Integrated Microphone (Black)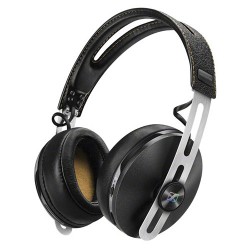 Great sound experience
Dec 30, 2019
Its good for listening to music and movies. The bass isn't great but overall gave a good experience.
Reviewed on Argos.co.uk
great product
Dec 30, 2019
great product, bought as a Christmas present for my husband. Already own one pair in light beige colour. would definitely recommend
Reviewed on Argos.co.uk
Totally worth the price
Dec 27, 2019
To start off: I chose these headphones because I'm, like, super basic and value looks moreso than I should. Now that that's outta the way I can do an actual review: Easy to pair and easy to use, the three-way button controls are very forgiven, well hidden, and easily accessible. The cups are deep, but not super deep so people with protruding ears (like myself) will experience discomfort in extended listening sessions. The foam starts mildly unc... Show Moreomfortably firm, but softens rather well after a week or so of use. Hold is firm enough for casual listening but not for wear with bustling activity. Sound: crisp, clear, good bass and mid tones. It's a little lacking in a bit of the higher ranges, but only slightly so. Noise cancelling works best with sounds up to a vacuum cleaner at about 20ft away, but it's still effective against most other noises, thoroughly impressed. Microphone picks up very well, but will also pick up most surrounding noises so do be careful of that. All in all, if I had paid the $600 price tag for the newer version of these headphones and got what I got, I would have been a little disappointed and rated them 3 or 4 stars. However, for $200 after tax, and including shipping, I'm extremely happy with what I received, especially as a new product and covered under manufacturer warranty and support. 5/5 considering buying another as a gift for a friend.Show Less
Reviewed on B&H Photo Video
The best I ever bought
Dec 10, 2019
These headphones are the best i Have ever bought, The sound is incredible . I use these on my laptop and listen to music If I had to buy another pair again, I would buy the same ones,Best I have found in the price range
Reviewed on B&H Photo Video
Amazing
Dec 4, 2019
I just bought the momentum 3 and im amazed how good is this headset. I listening lots of music with lot of bass...i have goosebumps when im listening music with my momentum 3. Highly recommended
Reviewed on B&H Photo Video
Love the sound quality.
Nov 28, 2019
Best audiophile wireless noise canceling headphones currently on the market. Awesome and accurate bass response; second to none. Highs are crystal clear and sharp, but not harsh. Midrange is good, with clear vocals. Phone/Microphone call quality needs improvement; this headset was not designed with call quality in mind. These headsets are geared to people who love and enjoy music at its best. I sampled the Sony and Bose top headsets, and settled for the Sennheisers. No regrets, love the natural sound quality and extended bass. I would highly recommend the Sennheiser Momentum 3
Reviewed on B&H Photo Video
Blue tooth headphones
Nov 1, 2019
I already have the wired Momentum 2s and have been blown away by the sound quality, and these Bluetooth version do not disappoint. They tell you the play time you have left, power on off etc. Come with an array of ear fittings. Just extremely happy with these
Reviewed on Argos.co.uk
Greta Headphones!
Oct 23, 2019
My Sennheiser headphones are brilliant. They are simple to set up and the sound quality is the best. I ordered them online and they were at the store the very next day. Well done Argos!
Reviewed on Argos.co.uk
Great earphones
Oct 17, 2019
Love these earphones. They are comfy and they have a good sound. Only slight hick-up is that the ear cups could be a bit bigger for a more comfy feel. But overall a great pair of ear set
Reviewed on Argos.co.uk
Excellent other than some reception issues
Sep 6, 2019
Sounds quality and comfort are excellent. My only issue is that the sound cuts off slightly when I'm in busy places (though this may be my phone's fault and not the headphones).
Reviewed on Argos.co.uk
Reliable long lasting quality sound
Aug 21, 2019
Bought to use on holiday with Spotify, completly reliable, compact size and great sound performance and balance for all types of music.
Reviewed on Argos.co.uk
Excellent quality sound
Jun 26, 2019
I exchanged Dr Dre beats for these as the sound quality was appalling. And I'm glad I did!! Great sound, volume and comfort in ear. You won't be disappointed!
Reviewed on Argos.co.uk
With Sennheiser you know as you are good
Jun 18, 2019
There is no WOW factor, while if you know Sennheiser Momentum line, you expect premium all over. Don't really like "sticks" on both sides of cable, and magnets are powerless, but it's probably really subjective. Everything else you will just love. Perfect balanced sound (you don't expect extreme bass line from in ear headphones), not problem to wear them longer time as well. Ok, they don't have ANC, but passive noise cancellation is good enough to accept it.
Reviewed on Argos.co.uk
Good sound and comfort
Jun 4, 2019
These noise canceling head phones with Blue Tooth are well constructed and also sound great. They have good base response and mid and high frequency reproduction is also smooth. The head band with stitched leather pad is sturdy and functional. The ear cushions are very comfortable and allow them to be worn for longer listening sessions. The rechargeable battery in the headset last for a good while without recharging. A detachable cable is also... Show More included if needed. The range of the Bluetooth is good. The ear pads are leather and stitched and surround the ears in a comfortable and cushioned way. The unit can be folded for storage and traveling. It comes with a cloth bag and a carrying case. Volume controls and blue tooth pairing are straight forward and easily done. gccjrShow Less
Reviewed on B&H Photo Video
May 31, 2019
Great headphones,sounds perfect only thing I find is the bit that goes on your head could be a little thicker.
Reviewed on Argos.co.uk
Amazing sounds and so comfortable!
May 30, 2019
These are the first wireless, noise cancelling headphones I've had, so I've not a lot to compare to, but I can say they are an excellent product! The sounds quality is incredible and the noise cancelling is ace! They are extremely comfortable to wear and they really stood out to me in their looks, I think they are the nicest looking headphones I've seen, that's why I wanted them so much over others. The battery life is brilliant as well, with up to 22 hours playtime I think it is.
Reviewed on Argos.co.uk
Comfortable stylish looking and perfect for me
May 19, 2019
Reserved them and went the next morning to pick them up. Friendly and helpful staff. The headphones are perfect with quality sound and design.
Reviewed on Argos.co.uk
wow
Apr 24, 2019
I've rediscovered the joy of listening to music - simply the best set of headphones I've heard.
Reviewed on Argos.co.uk
Excellent audio, great fit - slightly expensive
Apr 7, 2019
Very happy with the purchase but of affordability is a litmus test then you'll be a little bit uneasy. Sennheiser are the leaders in sound quality and have been for years there's little chance of that changing. I even put them to the test against the Beats over ear headphones and they came out on top.
Reviewed on Argos.co.uk
Looks good but seriously flaws!
Apr 2, 2019
Ordered these recently as I had read a lot of good reviews on them. Style wise they look awesome and sonically they are great but they have such serious flaws! The Noisegard technology doesn't work well! The microphone in it seems to detect certain frequencies an feedback serious high pitch screaches into your ears. It also seems to be triggered by lots of movement such as when you're sat on the bus and that triggers the feeback. Will be returning soon!
Reviewed on Argos.co.uk
great sound and stylish
Mar 27, 2019
my son is a music student so the sound is very important to him, he also loves fashion so these headphones tick all of his boxes
Reviewed on Argos.co.uk
Fantastic build quality
Mar 18, 2019
Really nice set of headphone with clean honest sound quality. Build quality is second to none.
Reviewed on Argos.co.uk
Bluetooth appears to be bad:(
Feb 7, 2019
I had a pair of these before and the bluetooth on these keep dropping maybe a update problem?
Reviewed on Argos.co.uk
Perfect but pricey
Jan 24, 2019
These are great but you are paying a bit higher than most places. Comfy and sound amazing, i use them for music recording and generally most other things. Gaming is fantastic with these.
Reviewed on Argos.co.uk