DT 770 Pro 80 ohm Closed over-ear reference headphones for professional sound while recording or on the go Bass reflex for improved bass res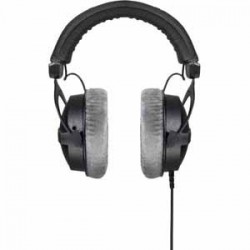 BEYERDYNAMICS DT 770 PRO 80ohms
Sep 11, 2014
If your like me and search for a pair to totally furfill your satisfaction. These are the ones for you, tick all boxes even price, to be honest they should be dearer due to others in and under it's league which are far too overpriced. If your an all rounder like me who wants the best for the studio, best for mixing and best for listen to hard bass tracks. These headphones are your boys. If at that I am still picky that it don't have modern c... Show Moreonstructive styles in making the wire hardwired. And not detachable, you get over this after researching all the headphones out there with a detachable chord. They either break somewhere be headband or are over priced! Or most of all not as good as the DT 770 with regards to bandwidth and high definition in sound quality. The bass is real and just the punch you want to hear, I had headphones where the bass lacked and have always been disappointed with my past purchases. Being a DJ and full time music tech student. Bear in mind, all the spares and accessories are just great for the beyerdynamics headphones. If something doesn't feel comfortable or breaks.. parts are available at reasonably prices! on this site. From 5 Hz you hear such a low frequency that when you give it a lil notch in volume your having a seriously deep bass which not over powering and well balanced, especially with dance music. The vocals are so crisp and those midi instrument sounds, synthesisers are so captivating. The soundstage is excellent. People say it's unrealistic and quite a narrow sound, which makes the accuracy of a track not quite right. But no it's fanstatic! With regards to an amp, well if you want one get one, but on devices is reasonably loud I can say. I won't be using it on my phone but for college projects mainly I bet they will sound great with my decks too. Built in sound cards will always be enough! Although I must as you say 'burn in' these headphones but from first listen they top all my headphones. They are great HI FI headphones, are mobile enough and have best studio sound, I spent days researching headphones! I'm all about best studio sound, comfort and robust housing! Get these bad boys for sure. Michael Beckett (4th year Honours Music Tech student) Owner, DJ & (Radio/Content) Producer @ DJ B3ckZ & BuckZ, Sound Specialists, DJs & Lighting Technicians. Virtual Designers Professional Ireland.Show Less
Reviewed on ThomannMusic.com
Excellent headphones for studio and live use
Jun 6, 2013
While the iconic Beyerdynamic DT100s may be a true industry standard, the 770s are certainly a step up and worthy of consideration for both studio and live use. I wouldn't say the sound is entirely neutral but it is certainly very good for the price. Construction wise these are up to the usual Beyer standards, with a very solid headband and cable attachment. One point I should make though is that is is certainly worth swapping the cable from t... Show Morehe straight type it ships with, to a coiled one. This is a relatively easy soldering job and gives you a cable that not only feels higher quality, but won't get caught round your foot when you're standing at the mixing desk. A key feature of Beyer headphones is that almost every component can be replaced, and that is certainly the case here. From the cable, earpads, headband, drivers and beyond, you should be able to keep this set of headphones lasting for years. I often use another pair that are well over 10 years old, and are still going strong. So then, the sound! In the low end, these are very faithful and neutral, with a rich bass but never one that feels overpowering or artificially extended. There's now hint of muddiness or boominess, with superb separation, clarity and detail throughout all of the low frequencies. In the mids, separation remains excellent with plenty of detail to allow you to pick out those all-important mid-freq details when mixing. All genres of music sound excellent though these, although if you really want to be amazed, something along the lines of John Mayer, Kina Grannis or Brooke Fraser is worth a listen through these. Treble is best described as being slightly extended, and while I enjoy this for listening, it's certainly something to keep in mind when mixing critical recordings. At now point does it sound brittle or harsh, but it is slightly too boosted to be described as neutral. For live FOH engineers, do keep the DT770Ms in mind which offer greater isolation for use in nosier environments. That said, I chose the standard 770s as I also mix plenty of live recordings, and I've never mad major issues with them in either application.Show Less
Reviewed on ThomannMusic.com
Used them for a few weeks now, love them.
Aug 23, 2019
Firstly, a little bit of background here - my previous cheap headphones broke a while ago so I thought it was finally time for me to buy a decent pair of headphones. I decided to go with these ones due to the praise they get online, and as soon I started using them I realized that they deserve every bit of praise that they get. Sound 10/10 - I listen to a variety of genres, from techno to classical and these headphones are amazing at deliver... Show Moreing great sound in all of them. The bass is very clear and the mids are also good. The highs are also very crisp. In bass-heavy genres, the bass sounds amazing and still manages to make space for all the other frequencies. I have also noticed that with these headphones I hear a lot of subtle sounds in songs that I never heard before. Comfort 10/10 - These are hands down the most comfortable headphones I have ever used. I can use them for the entire day and forget that they are on my head. They cover my ears completely unlike other "over-ear" headphones that have ear pads that touche your ears. All in all I don't have any complaints here. Quality 10/10 - Although I haven't used them for a lot of time, the second you touch them you can really feel how sturdy they are. The headband is built of metal and I'm sure that is going to increase the lifespan of these headphones. The only thing that some people may not like is 3 meters long cable, but since I bought them for home use, it is not a problem for me at all. To sum up I am very happy with these headphones and also with the quick delivery from thomann. If you are looking for versatile headphones that you can use for monitoring as well as for listening to music you can't go wrong with these.Show Less
Reviewed on ThomannMusic.com
Good Headphone for many applications
Feb 19, 2014
Hello, as I was looking for an allround headphone, I thought as a student, it would be the best to spend my money for one good headphone, rather than to buy a few ones for different occasions. I checked different headphones and reviews and in the end bought the Beyerdynamic. To make it short, it was the right choice and I'm using them for about 1 1/2 year now. My thought about what field of application the headphone would be used, were the ... Show Morefollowing. I wanted the opportunity to practise in private if I want (E-Bass and E-Guitar), listen and/or record musik, and also to have the opportunity to use it, when I want to watch a movie on my Laptop. That was also the reason why I bought the 80 Ohms version. In the end, I'm not really watching much movies, so I can't really tell you how they work with that. I used them once with my smartphone (at home), wouldn't really take them out, as the sound of most sound processors in these things are, apart from modern music loudness war, not really good enough. But the Headphones really did make a good jog. As I bought the 80 Ohms version, volume wasn't an issue, so if you want to take a very good studio headphone out on your walk, it might be working ;) . But for listening, recording and practising, they are really nice headphones with a good sound delivery from high to lows. You really need to like it, to have closed headphones, but I'm very happy with my choice, to have bought them. I also find them very comfortably to wear over a longer period. Yes, at certain points your ears can get a bit warm, bit if you find it to much, stand up, get yourself a new coffee or take a breath of fresh air to reboot your system ;) .Show Less
Reviewed on ThomannMusic.com
Great sound and quality
Dec 19, 2017
I use these headphones mostly in studio, but also for music listening. SOUND: Overall very clear sound with wide stereo image. I find them especially good for rough mixes because of the wide stereo image. Bass is clear and tight, no mud and mush in the low end, which is exceptional at this price level. Mids are well defined and clear. Highs are very nice, but kind of soft, so you will want to take that into consideration while mixing. Most o... Show Morether headphones and monitors will sound brighter and crispier. I personally prefer the tamed highs on DT770, since they allow me to listen for longer, without as much ear fatigue. This is totally a personal preference though. Just so there is no confusion: you can hear all the highs properly (at least in my hearing range, which is up to 17.5 kHz). COMFORT: 10/10. The ear-pads are magic in my opinion. I can easily wear the headphones for hours without noticing them. BUILD: Great, as with most of the Beyerdynamic stuff. I have dropped them many times and squished them in my backpack, but there is not a scratch on them. However, if you manage to break them, every part is replaceable and you can buy it from Beyerdynamic. Overall, I would even say they are cheap for what you get. PROS: - Tight bass response (not heavy thought) - Clear sound - Exceptional comfort - Great build - Sound clarity CONS: - Cable is not detachable - Ever so slightly tamed highs (not a con for me, but some people might not like this) Highly recommend these!Show Less
Reviewed on ThomannMusic.com
Nice headphones, the best ones in the price range
Apr 29, 2018
I use the headphones mainly for music production at my home studio and sometimes while traveling. The headphones are really nice, the quality is really good they have a nice low end that has no kind of conflict with the other frequencies which is a common problem with some other headphones that are in the same price range, this is really nice at the moment of mixing or mastering a song. However, I noticed that when I use the headphones with a sma... Show Morertphone the mid frequencies might get a little bit dulled. The comfort of the headphones is from the best ones I've ever tried, you might use them for hours and hours and you will not notice that you are even wearing them (I really loved the way Beyerdynamic designed this article). Talking about the design of the headphones I can say that I did not like the long cable and that they are not designed for being portable (because I also use them for traveling as I mentioned, and this problem might be annoying), however, if you will just use them in the studio this might not be a problem for you. Despite those little problems, the headphones are in general really good for their price (I could say they are the best ones in this price range). I would highly recommend buying these ones, nevertheless you can add some money to your budget and get something better, but at the end who decides if buying or not this product are you, I hope this feedback text help you to take the best decision for you.Show Less
Reviewed on ThomannMusic.com
Amazing headphones!
Sep 4, 2019
I use them only for listening to the music. Mainly pop, rock and classical music. I connect them either to a PC (Asus Strix Z370 main board with integrated Realtek ALC1220 sound card) or an old Sansui Solid State 5000x amplifier. The power of the integrated main board pre-amp drives them effortlessly. I use the MS Windows drivers. Sounds much better than with the Asus drivers, which lack the lowest bass range and sound annoying. To me, the DT 770... Show More Pro sounds better than the Audio Technica ATH-M30x and Audio Technica ATH-M50x. The Beyerdynamic sounds better balanced and without any annoying frequency gaps like the ATH-M30x. I am not impressed by the "disco sound" of the ATH-M50x either. Especially for a professional headphone at that price. The DT 770 Pro is more universal, more transparent and convenient. Sound is also bigger and more airy. Can't estimate whether the Audio Technica or the Beyerdynamic is better built. The craftsmanship of the Audio Technica looks very neat, but sound wise the Beyerdynamic is better to me in every aspect. They look very cute in reality, though the old "military" design, which i find quite charming. Service by Thomann was great! Thank you!Show Less
Reviewed on ThomannMusic.com
Happy Lengthy Use!
Oct 7, 2018
Use it for critical listening or mixing or tracking; the DT-770 will do the job. The sound quality is superb and the drivers can do justice to the whole freq spectrum. Bass response is tight without any major bumps or colouring. Really easy to get accustomed to their sound signature, to say the least. Highs are clear and defined. The stereo image is clear and detailed. For tracking purposes their isolation is also of high quality, with ... Show Moreno bleeding back to microphones. Comfort wise, 770s can be worn over long hour sessions and still not hurt your ears, while the velouté padding is cool and comfortable to the skin. The clamping is strong enough to hold them firmly, but not irritating to the cranium. Beyerdynamic's classic is built up to high material and design standards, leaving me with no worries concerning their longevity. I have "dragged" them everywhere I go, used and abused them over the last 7 months with not even signs of wear still. I was worried about the fix cable design, but it hasn't given me any trouble, nor does it seem to be going bad any time soon. Definitely would buy again in case of loss!Show Less
Reviewed on ThomannMusic.com
Top sound, comfort and build.
May 26, 2018
I bought these after hearng good stuff about them, considering the price range and what I was after. I use them to monitor when I play guitar (throught the amp) and for general music listening. Unlike previous headphones I used to monitor, the sound is practically the same as what comes out of my amp, hardly any difference. That is was I was looking for. It does need a spike in volume but that typical for these kind of headphones. The build qua... Show Morelity is sturdy and super comfortable to use. Could have come with a detachable cable but it's not that important to me. The sound quality and the soundstage is amazing. It's not flat (but for the price range it's damn similar) and, as previous reviews said, the highs are pretty pronounced but it's balanced with good bass (not overly saturated, no irritable sub-bass frequencies) and present but clear mids, making the highs stand out as clarity, which for me is a nice touch, since I'm looking for fast decaying frequencies and no overhanging blurbs of sound like my previous Bose or Technics had. Overall very satisfied and recommend to anyone looking good headphones to monitor guitar/bass or drums.Show Less
Reviewed on ThomannMusic.com
Very happy with these cans
Nov 15, 2013
I've had these headphones for three years now, and I'm very pleased with them. I'm a gigging musician (drums and percussion) and software developer. I often wear these for long periods of time (3+ hours) when I'm sitting with the computer, and I find them very comfortable. At gigs, I use these to check what is going on at each channel. I've also played some gigs to a click track, and listened to the click through these cans. In this situation,... Show More these headphones don't isolate incoming sound that well, and I found I needed to keep adjusting the level to keep the headphone sound just above the ambient sound from the band. I solved this by also feeding the click to a Buttkicker stool shaker. I believe they do isolate outgoing sound quite well: other people have told me they can't hear what I'm listening to. I find the sound very clear. Initially I was a bit disappointed to hear a little less bass on my favourite recordings, compared to what I was used to from my previous cheap headphones, but quickly realised that the sound is more accurate, and I can hear many more details than before.Show Less
Reviewed on ThomannMusic.com
Amazing Headphones
Sep 19, 2013
When I came to buy headphones for mixing and monitoring I went for the Beyer DT770's over other models based on reviews I'd read. It turned out to be a great choice as these phones are simply amazing. Firstly the sound quality is superb and I love creating tracks and listening to music with them on. They give a really detailed sound across the whole frequency range. I've done a lot of first draft mixes on them which are surprisingly accurate ... Show Morewhen transferred onto the monitors. There's never even a hint of overspill when using them for recording either. I'm writing this review 6 years after I purchased them so needless to say the build quality is also excellent. I tend to use them a lot at home with the kids around and I also use them as monitors for my electric drum kit so they're in use every day. They're also extremely comfortable and my ears never get sore or tired when using them for long periods of time. Overall I can't recommend these enough, they do everything and they do it well.Show Less
Reviewed on ThomannMusic.com
2 years of use, and so good, so far!
Jul 24, 2016
I'm always very relutant when it comes to producing with headphones, however I can trust my mixing decisions on the Dt-770, as they have helped me countless times so far. They have a clean and true sound, which will help you to uncover any small detail that you might missed using audio monitors, they also have a very stable low-end freq response which, as most of you might know, is hard to get when it comes to headphones. I normally use headp... Show Morehones on the final mix/mastering phase, to polish those small details, however I have used the dt's a few times to build a track from scratch, and they always stand up very well to the challenge. About the comfortability aspect, the way they could be more confortable was if they came with a massage kit inserted on the pads in the first place... I had a few headphones in the past, some good (even more expensive than the dt's), some so-so, and the dt-770 are maybe the only ones that I could use an entire day without feeling any kind of discomfort.Show Less
Reviewed on ThomannMusic.com
I'm satisfied.
Nov 9, 2014
My personal experience for your reference Hi, my name is Oskar. I'm not a professional of any kind when thomann it comes to audio production and everything I do around music and video is only a hoby for me. I do, however, spend alot of time around professionals in different kind of studios and with different kind of equipment so I know the difference between good and bad thomann stuff, on an amature level, at least. Working in an someti... Show Moremes noisy enviroment these headphones does me a big favor isolating outside noise. When wearing these, the world goes quiet and It's just me and my crystal clear music. The padding is great for both comfort and isolation. The bass is as clear as the high frequenzy sounds. Only cons I can think of is that they're a bit heavy and they look kind of plastic. (The quality feel is not cheap.) Thanks for reading.Show Less
Reviewed on ThomannMusic.com
Expensive mistake
Jul 4, 2014
My DT-770 Pro sounded superb initially but after a short while the left earphone failed (through Google I find I am not alone in having this problem). I sent the set off for repair and after 3 weeks I received the set back. Although the set worked on first use the problem returned the second time I tried to use the 770's. Once again I sent them off for repair and once again they failed shortly after I got them back. I asked Beyerdynamic why the p... Show Moreroblem might be occurring but both times I received no explanation. Although Thomann's return arrangements are well organised the process involves packing and going to the post office each time which is time consuming. So having done this twice I have now given up, as I want to spend my time on music not returning equipment. I will just not buy anything by Beyerdynamic again.Show Less
Reviewed on ThomannMusic.com
Excellent reference headphones
Feb 19, 2019
DT770s are my personal benchmark for reference/studio headphones, and they're definitely my favourites in this price range. I find them a little clinical for casual listening, and the passive noise isolation is just OK, but for detailed listening (e.g. mix reviewing) in quieter environments they're excellent. I've also enjoyed using them for film editing and video games. Very comfortable for extended sessions and the long cable is a nic... Show Moree touch too (especially useful for movie or gaming sessions, when they're plugged into an amplifier under my TV ? I can sit on the sofa a couple of meters away) However, for some applications like drum tracking or air travel I prefer using my Shure SE215s, which have much better passive noise isolation.Show Less
Reviewed on ThomannMusic.com
My 2. Place
Jan 23, 2017
Hi, I've used this headphones in my home studio and also i have Audio Technica Ath-m50x too. I've listened many styles of music with these headphones. ?n my opinion Audio Technica is warmer, clearer and has better sounding for mix usage. For any other applications usage, Audio Technica is louder than Beyerdynamic. I've compared these two for impedence, frequence response, comfortibility and I've tried to seek true sound for mixing. For just m... Show Moreusic listeners, Beyerdynamic can be lower sound and may need a sound card for strong voice. I put Beyerdynamic 2.place after Audio Technica. I hope this feedback would especially be good for who is gonna think about to buy and can't decide between these headphones.Show Less
Reviewed on ThomannMusic.com
First Impression
Jun 19, 2015
Goot them today first thing I noticed : Build quality - amazing. Sound - woah... eargasm after eargasm, I'm a basshead and listened to Bring Me the Horizon - Septimental album.... Hospital for souls was something amazing. Electronic music like dubstep, drum and base, trance, house, etc. also sounds good, not too heavy on base, you can clearly hear different low frequencies and they don't interfere with other. They sit very well on the head, a bit... Show More of clamping force is felt but it doesen't hurt the listening. I was listening them on the road to university, about 40 minutes in a loud enviroment and sound isolation is good. The only thing that I wish was implemented is an detachable cable.Show Less
Reviewed on ThomannMusic.com
Very comfortable cans
Nov 2, 2014
These cans are amazingly comfortable, and have a huge sound. They do need a beefy headphone amplifier to successfully drive them at a loud level, but any mixing desks headphone out should be more than suitable, an iPod struggles a little. They are a trifle bass heavy, which is very enjoyable while listening back to mp3s or listening to components during a mix, but they do lead to slightly bass light mixes when translating to other listening ... Show Moremethods. If the bass heaviness can be over come then they are great all day headphones, and have a soft spot for me for using for Drummers or Bass players while tracking, as the weight allows them to get into the groove without eq ing inputsShow Less
Reviewed on ThomannMusic.com
Incredible Headphones
Aug 15, 2014
I purchased these recently. Packaging was a bit cumbersome and did seem cheap for this type of product, but I finally got to the phones. First listen was incredible delicacy when required, power in masses with no compromise, and I got a bit bolder and pushed the cans a bit more, then unfortunately, my left speaker crackled with distortion. I'm not sure if they were reaching the max of their operational ability or if it's actually a fault. But ... Show MoreI'm actually so pleased with this headphone I have not complained or returned to Thomann. They are capable of incredible loudness and control with it before distorting in quite an unpleasant way. I give them a 4 star rating for this reason.Show Less
Reviewed on ThomannMusic.com
a great purchase
Jan 28, 2019
Quality: I have had these for years now and they are bulletproof. I have traveled with them and used them every single day for years on end and they still look brand new. These are made from leather, metal and thick hard plastic and a hard wearing yet soft material for the cushions. Comfort: They are very light with thick cushions and offer a lot of adjustability. Sound: Because these are 80Ohms i have had zero issues with driving the... Show Morese with a regular jack on my computer, i rarely have to put the volume above 20. Everything is clear yet still on the warm side of things unlike some studio headphones which are too precise for casual listening.Show Less
Reviewed on ThomannMusic.com
High-fidelity with some head pressure
Jun 1, 2019
After about a year of daily use (also in commuting – with the case) my headset works perfectly. The sound is excellent when I listen to music via soundcard phone output, but delivers a lesser performance when used with a mobile phone. When listening to music with a phone, the left driver developed a rattling noise at higher amplitudes, but the phenomenon never happens with the soundcard. I've decided to invest in a smaller footprint hea... Show Moredphones and with less impedance for daily use and leave this set at home for dedicated use. The pressure delivered to the side of the head after lengthy use can cause some discomfort and uneasiness.Show Less
Reviewed on ThomannMusic.com
Superb high quality headphones
Dec 18, 2018
I absolutely love these headphones as they are very comfortable and have amazing sound quality. I'm using these on daily basis for quite some time already for practicing my guitar (acoustic and electric) and I have used these also for studio recordings. They perform very well in all terms. Very clear and balanced sound in my opinion. These are highly recommended to any musician who needs high quality and durable headphones. I can not find any con... Show Mores at all :) I have not had so good headphones before in my life and I'm happy that I chose these ones. Press the: "add to basket" button already :)Show Less
Reviewed on ThomannMusic.com
Not Bad Headphones for studio monitoring
Feb 24, 2015
I have a set of DT-880's as well as these DT-770's for studio desk monitoring use. Personally I like the 880's better as the build quality seems a bit better and the sound although similar I prefer the 880 for too. However, the DT-770 are a great buy for the price - I've tried many other brands of headphones especially for monitoring but the Beyer always seem to come out on top. You can use them for extended periods in the mixing process (I do) and the results always sound great (so the bands say) after. Rated DT-770 at 8 out of 10 tonymckenzie.com
Reviewed on ThomannMusic.com
Good for lower frequencies
Jan 18, 2016
I got these to double check how the low end was sitting for post production SFX tracklay. With a good headphone amp, these headphones really translate well to main monitors. My only gripe is that they became quite loose on the head after 1 year of intense use which makes them less comfortable and not as isolated - compared to my sennheisser HD25s, sennheisser have a better build quality. However, for this price and for how good they sound and translate, I would recommend for post production.
Reviewed on ThomannMusic.com