V-MODA Crossfade M-100 Headphones (Matte Black)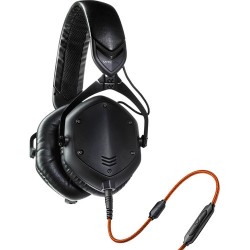 Well Built, Portable Fun Cans
Apr 10, 2015
I came to the V-Moda Crossfade M-100s after my last pair of in ear monitors (from Thinksound) died. I tried several other IEMs first but either age or...probably age resulted in all of the ones I tried being painful to use or difficult to keep in (I've always had a troublesome left ear canal). So I decided to try a smaller pair of more portable sealed headphones instead of IEMs. I knew I didn't want On-ear style cans. That left several good optio... Show Morens in what is an increasingly crowded space. I'll leave out my long research and analysis but it came down to the M-100s and the NAD VISO HP50s (which are unfortunately not yet available through BH). I would also have considered the Oppo PM-3 but that one just happened to come out about a week after I bought the M-100s. I chose the M-100s without listening to either, primarily based on the following: - I wanted a fun ('v' or 'u' shaped) sound signature with strong bass for these portable cans - I wanted something very portable - I wanted good build quality - I wanted as good passive noise isolation as possible In reality all three mostly fit the bill; again, the Oppo PM-3 might've even been *better* at least for the noise isolation part. I had read some concerns about the NAD's built quality. So I went with the V-Moda. I'm happy with my choice. The Crossfade M-100s are *not* neutral, reference cans. They are bass heavy (though not overly bloated like a pair of Denon Music Maniacs I previously owned). They have top end sparkle and detail. The mids are somewhat recessed in comparison to the rest of the frequency range, and a comparison back to back vs my Sennheiser HD650s is dramatic in the difference. But - to emphasize - that's what I wanted. A fun portable set for listening on the go. I love the hardshell case and the way the headphones collapse with a satisfying click (though it is a little bit of a pain that you have to remove the cable every time to store them - I now keep the cable in a separate baggy in my backpack so I don't have to fold it up as carefully to fit it in with the cans in the hardshell case). My LG G3 drives these exceptionally well, with good detail and terrific bass. They don't have a huge soundstage, but the general presentation of most music I've thrown at them is fun. Musical. Engaging. Fantastic for EDM, hip-hop, trance, soundtracks, alternative rock, pop...I wouldn't use these for classical or jazz, personally, but they would probably be okay. Others have noted, but I strongly recommend the XL pads. It was a bit of a pain to replace the stock pads because I was afraid of breaking something, but these are rugged headphones and I eventually got the stock pads off. That made these cans genuinely Over Ear for me (instead of on ear) and helped with the sound quality slightly to boot. The only drawbacks to these headphones: they don't isolate as well as IEMs (of course not, but one can dream) and they do get hot on the ear after a few hours of use. Additionally the headband can start to hurt on my head but I found if I just adjust slightly that alleviates the issue. All in all: if you want a fun, portable, robust set of over-ear cans for on the go listening, these are hard to beat.Show Less
Reviewed on B&H Photo Video
Five Star Sound
Aug 27, 2013
I've owned a decent amount of headphones and earbuds. I compared the M-100s to several other headphones in the lifestyle category. Logitech UE6000 and Sennheiser Momentums. I chose to keep the M100's for several reasons. 1. Build quality is fantastic compared to anything under $400. The hinge has a satisfying click when opening and collapsing. The metal used feels very solid. 2. Replaceable cables. All 3 headphones I listed have replaceable cable... Show Mores. However, the M100 is the only one that uses a standard 3.5mm jack on the headset and is the only one that fits inside the headphone slightly for a more secure connection that prevents damage from bumping into things. They are also the only ones that allow the cable to be plugged in on either ear cup. The M100 also has an optional Boompro Mic that works great for VOIP. The replacement cable for the M100 is cheap and readily available. Sennsheiser Momentum cables are not as easy to find. 3. Replaceable earpads. The UE6000's do not have replaceable earpads. Both the M100 and Momentums do. In addition, V-Moda has just released (for preorder) an XL sized ear pad that's slightly bigger and has a deeper cup for people will larger ears and additional soundstage. The Momentum earpads are made of real lambskin and are softer than the M100's. However, they are a little smaller and for my ears slightly less comfortable if worn for more than 30 minutes. For smaller ears, there probably won't be much of a difference for comfort. 4. V-MODA Immortal Life Program. If you break a V-moda product after it's 2 year warranty, they'll give you 50% off a replacement. 5. Size. Even though the M100's are the largest headphones of the bunch, it's also the most compact because of it's hinge folding mechanism. When tucked inside its case, it's much smaller of a package than the UE6000 and Momentums. Most importantly is sound quality. The Momentums and M100's are noticeably better than the UE6000. The M100's have more (quantity) bass than the Momentums. They're both very accurate, but the bass on the M100's feel fuller, deeper, and bigger. This can be toned down if need in EQ. The Momentums are accurate but not as big. Using an EQ helps, but doesn't match the impact of the M100's bass. I wanted a fun headphone and the M100 fits the bill perfectly. The Momentums are more balanced. The M100s have more of a V shaped sound. Emphasis on the bass and treble. This mids are still accurate, but seem receessed in comparison. This can be corrected/adjusted using an EQ if needed. Taking into consideration the advantages list above and the fact that the Momemtums are $50 more expensive, and the M100's are a clear winner for me.Show Less
Reviewed on B&H Photo Video
Awesome Sound
Dec 10, 2015
I use these headphones while I travel but mainly I use them for sound monitoring. I do a bit of engineering and producing. The moment you start playing music on them or any audio track you will notice how clear they are. They're playback is incredibly accurate and I've never had any problems with low, mid or high frequencies being too loud when I finally export my projects from logic pro x. The cords that come with the headphones are very conveni... Show Moreent. The long one (which has a very nice share-play extension) has never been too short to move around in my makeshift studio. Another thing about the chord: it's a synthetic fabric materiel that doesn't catch on anything which is REALLY nice. plus they feel really good and sturdy. The headphones also are heavy duty. I treat mine really well so if your at least moderately nice to them they're be able to take a hit every once in a while (though I'm not sure how you'd manage to do that; mine are either in their case or on my head). Now comes the part that I would say makes these headphones a 4.5/5 : I prefer headphones with a bigger fit. When I put these on the lining on the speakers are slightly touching my ears (and I have small ears so I don't normally have problems with uncomfortable headphones). Not to say these AREN'T comfortable but wearing them for extended periods of time can push on your ears a bit (but if you take regular listening breaks, as any good producer should, you should't have a big problem). The foam certainly is nice and doesn't bug me at all. Overall: if you're looking for accurate sound reproduction and clear frequency response: GET THESE! if you're looking for something that is good for traveling get a pair of Bose sound-canceling headphones. they're both about the same price. considering what on the market these come at an incredible price for truly incredible performance.Show Less
Reviewed on B&H Photo Video
BEST cans that can be driven by iPhone
Aug 14, 2013
In the month leading up to my purchase of the M-100's, I tried to buy everything else on the market within a hundred bucks of what these cost... a number of Beyerdynamic models, two models of high-end Bose cans despite advice not to bother, some sexy Bowers and Wilkins that I still wish sounded as good as they look, some absurd looking AKGs, Sennheisers that would have been at home in a Rolls Royce... and it should say enough that I happily purch... Show Moreased the V-Modas. I need pretty accurate sound because I review mixes for TV as part of my job. I also enjoy new electronic music and the lush sounds of Philly from the 60s and 70's-- so finding a pair of headphones that can tackle that range of work without sounding too sterile was a tough task... but to be honest another huge concern was fitting whatever set of cans i was going to buy into my ipad bag. Well, after entirely too long (and over $2,000 in returned headphones) I stumbled across these headphones at a demo in a store in the east village. They sounded great. Surely they were fifteen hundred bucks. Nope. Surely they were the new model from Sennheiser. Nope. Surely they were being driven by a headphone amp. Nope. Now I am hearing faux-insecurity in James Murphy's voice that was never there in my Sony V7's. I'm hearing clear, beautifully bouncy bass in reggae tunes that I assumed were recorded poorly. I'm hearing Serge Gainsbourg blow smoke out of his nostrils between verses. I'm starting to wonder if I'll get hit by a bus because I can't hear the street around me. These are great headphones. They are the ONLY pair of $$ cans that I feel are absolutely worth the price. I'm not a huge fan of the loud orange cord, but at least I don't look like Princess Leia wearing them. Highly recommended. Soberly recommend as well.Show Less
Reviewed on B&H Photo Video
Odyssey
Mar 19, 2014
Man oh man... are you in for a serious ride with these. Everything from the mid to the top is crisp and detailed. For me, coming from the Beats line and diving straight into V-Moda had me impressed with the refined top and mids. The details that arose in every track put a smirk on my face! The bass is my only con here. With the Beats you get a head rattling bass that creates a fun experience in my opinion... The bass on the M-100 is TIGHT and pun... Show Morechy as others state. Less flex means less WUB WUB WUB. Although the bass is something that can be EQed for the M-100, it cannot reach subwoofer level. (I know the bass was made tight so it wouldn't interfere with the mids and highs.. a noble sacrifice i suppose.) When I first plugged these in I was a little astonished because of how bright the highs were compared to the minuscule speck of highs put into my Solo HD's. You definitely don't want to turn these up too high because it'll hurt. I didn't know burning in headphones was a thing but these definitely needed it. I've come to love these a lot prior to my first listen in which I wasn't very impressed. You can read and watch as many reviews as you like but i would HIGHLY recommend finding an electronics store near you to demo these out... or any headphone for that matter. I expected more bass but I love them dearly as an all-around headphone. I've felt serious pressure on the back edge of my jaw where the the headphones press down. My ears don't protrude AT ALL yet i've felt a burning rash sensation on the Helix part of my ears after long listens because of how hard these clamp down. They loosen after a while so don't freak out.Show Less
Reviewed on B&H Photo Video
V-moda Crossfade M-100 = Pure Nirvana
Aug 21, 2013
I have been buying, selling, trading headphones for the past couple years and have owned usedBeyerdynamic T70P and Custom One Pro, Sennheiser HD650, 598, 558, 25-1II and Momentum, Sony mdr-1r, and aiaiai tma-1; with the mdr-1r's holding top honors, out of the fore mentioned headphones, as my favorite. That was until I tried the m-100.All of the previous mentioned cans were great headphones and all had their strengths and weakness and all had some... Show Morething missing. But the v-moda crossfade m-100 is pure nirvana, imo. I cannot find a flaw with these headphones; the build quality is ridiculous and they just feel like a premium product. I have absolutely no problems with the comfort (I have an average size head and ears, btw) and my ears don't touch the drivers at all. I wore them Saturday on a 5 hour flight to San Diego and have been litening to them everyday. And finally the sound (imo) is outstanding, I'm in love with the sound of these cans and I have thrown just about everything at them from rock to rap to bluegrass. I find the sound so engaging and can really feel the music, I suppose from the extra bass extension. But still having the detail and clarity I expect from headphones. And the soundstage is just perfect, I feel like I'm in a room surrounded by the music. Lastly, I just love the looks, especially with the matte black, so stealthy and awesome.Show Less
Reviewed on B&H Photo Video
Excellent Basshead headphone
Jul 22, 2013
I put a lot of research into these pair of headphones, and was directly comparing them to the Audio-Technica M50 + PRO700MK2, Shure SRH840, Beyerdynamic DT770-80, Sennheiser HD25-II. Essentially I was looking for a solid pair of all round DJ/Studio/Listening headphones. The M-100 met all my requirements and more. They are extremely comfortable, build quality is excellent, bass is rich and heavy but dynamic and punchy not muffled and warbly. Over-... Show Moreall sound-wise they were slightly beaten by the M50 which were beautiful to listen to, though this was a very slight second place.. and the other features such as beautiful design, hard case, solid lightweight metal construction and superb bass totally won me over. The kind of music I listen to is mostly beat orientated and dancey and ranges from Disco, Boogie, Funk, Electronic, House, Drum & Bass, Breakbeat, Hip Hop.. Also, whilst not necessary I use my M-100 with the Fiio E11 headphone amp when using with my laptop and portable devices. Although twice the price of the M50, I have to say it was worth every penny!!Show Less
Reviewed on B&H Photo Video
Couldn't be more satisfied
Apr 6, 2016
I know how useless reviews are that only focus on positives, so I'll make it brief: Sound is excellent for those who like full quality bass, mids that are not too forward, and sparkly treble that doesn't overstep it's bounds. Build quality, website, packaging, accessories, looks, cord length, attention to detail, and value are all terrific. It has a 4.6/5 stars after thousands of reviews for a reason. My favorite uses are for working out (stays o... Show Moren very very well, haven't tried it with p90x or similar though), and general relaxing. Now, the only negative I found was that after 3 hours of wearing them, my left ear felt uncomfortable from the pressure, so I had to readjust it a little. Warmth is perfect (doesn't overheat for me), just the pressure on left ear. I ordered some XL pads to solve this problem. I would say the issue is with depth (my donkey ears are probably too big), but the XL pads should solve that. Very minor issue, the sound is more than worth the pain....for real though, unless your ears stick out more than, say, 2cm, you should be good.Show Less
Reviewed on B&H Photo Video
Impressive sound, I wish they were more comfortable.
Sep 2, 2015
I use it for travel, plugged straight into my iPhone for ease of use, or with my Cozoy Astrapi, a thumb drive size DAC/Amp which improves the sound considerably. This purchase was my first attempt at a closed, compact travel headphone intended mostly for use with my iphone. There are a lot of positive reviews here so I won't go on about them. They sound great, a fraction too warm for me, which I think makes the vocals very slightly veiled and hon... Show Morekey. This criticism comes from critical listening on a home reference system and is not really relevant when using my iPhone as a source. In spite of the multiple reviews that are positive about comfort, my main issue with them is they are fatiguing from a comfort point of view. I may try different pads, but it's clear the sound is negatively affected by increasing the distance between the ear and the phone. Hopefully I will just get get used to wearing them. I think this was money well spent.Show Less
Reviewed on B&H Photo Video
fantastic service fantastic product
May 10, 2015
I was scepticle on getting the m100s before I bought them, yet I am extremely pleased with the quality of these head phone. They are built vary tough and strong and can certainly withstand bends twists and with the ability to remove the audio cable from the headphones there is a huge plus with them. Now its not only built tough but its also built to deliver crystal clear audio with great highs, mids, lows and the bass is pronounced yet noninterfe... Show Moreering so baseheads as well as audiophiles can enjoy listening to these. As far as service go's B&H is vary smooth and informational giving shipping updates and whatnot as well as offering (to me at least in MA) free shipping and no tax. Overall i would recommend the m100 to anyone who wants great style, great sound and has the money for these.Show Less
Reviewed on B&H Photo Video
THE ULTIMATE SERIOUS HEADPHONES
Jul 30, 2013
This is my 3rd V-Moda Crossfade headphones and the best amongst the 3 (Crossfade LP and LP2 being the other 2). I also have the Audio Technica ATH-M50, Shure SRH440 and the Sennheiser PXC 450. Sound quality and clarity wise, The Crossfade M-100 wins! Listening to these headphones makes you feel like having the artists and the musicians perform right next to you. Just incredible and very crystal clear! I believe that one of the most indispensable ... Show Morefactors to such an incredible sound quality of the Crossfades is their Frequency Response range of 5 Hz to 30 kHz... something that most popular brands do not have. Not only would I recommend this to my friends... I'd even help V-Moda promote their Crossfade products.Show Less
Reviewed on B&H Photo Video
I'm impressed & very pleased!
Apr 12, 2014
After reading many positive online reviews I decided to buy the M-100s and I am VERY glad I did. These headphones have great dynamics and the lows, mids and highs are very well balanced. I read several reviews which mentioned that the M-100s were a little bass heavy but to my ears they are perfect and do not have the overwhelming levels of bass the Beats headphones are known for. It's a perfect level of bass that adds great impact to music. I was... Show More also VERY impressed on how much more detail can be heard in music. In many cases it's as if I'm hearing these songs for the first time! Finally, the build quality is superb and I can tell these will be providing me many years of great listening!Show Less
Reviewed on B&H Photo Video
V moda cross fade 100
Dec 4, 2013
Listened to many headphones in a variety of places but never found the one. Continued research on the internet and decided the v-moda's were the ones for me so I ordered them. Terrific sound from my iPhone. Just the right combination of lows, midrange and base. I compare the sound to my Audi A7 with the $6 b & o and it is quite similar. Comfortable on for long periods, volume level goes quite high, carrying case and two wires all work well...the ... Show Morecomplete package. One thing though, you can hear sounds around you at low volumes and at the highest volumes others can hear the music, so you must make sure the ear pads totally surround your ears. Rate them 9 out of 10, well worth the moneyShow Less
Reviewed on B&H Photo Video
loving it
Aug 1, 2015
I have my m100's for a week now. I love using it. I use it everyday primarily for music and podcasts, occasionally for movies. I must say that all the reviews I watched on youtube prior to buying this were very precise and held true to every word. If you make a check list of the pros and cons that they have mentioned, I'd say 85-90% were met. Mind you that I am not an audiophile. I looked into the m100's because of its look, popularity and review... Show Mores from Hifi. The expectations I had were surpassed. I owned a momentum before this purchase. Vmoda helped me get over sennheiser quickly. I gave only four stars because the XL earpads are not free. It gets uncomfortable overtime.Show Less
Reviewed on B&H Photo Video
Best Headphones I've Owned
Aug 30, 2016
This is the best pair of headphones I've owned. I bought them mostly for commuting, travel, and a bit of working (I have an older pair of V-Modas I leave at my desk). Definitely a bit emphatic on the bass, but a very nuanced and full sound kind of like the old M-80s had. I have big ears/head, so I bought the XL earpads to go with them and they're very comfortable -- I haven't hit an upper limit for how long I can wear them. They fold up nice and small for travel/storage, and are built like a tank in terms of durability. FWIW I was debating between these and the Sennheiser Momentum 2.
Reviewed on B&H Photo Video
Superior Quality
Dec 14, 2015
These headphones sound incredible. All of the notes are crystal clear with a very strong bass. I even had to drop the bass a little but mainly to let the higher notes breath and really shine. These headphones brought new life to many of my favorite songs, with previously unheard elements adding depth and complexity. The downside is that the stock ear pads can cause some ear and jaw fatigue, so it is definitely a wise investment to purchase the vmoda xl pads. The comfort and isolation it provides greatly improves the experience.
Reviewed on B&H Photo Video
You will be amazed
Mar 24, 2014
This is the only pair of headphones you will ever need. Ultra durable. Good looking. Amazing sound. Portable. I'm using them every day and can't have enough of them. In fact, with these headphones I'm rediscovering my music. One interesting thing is that the isolation is so good that when I'm outside of the house, I'm listening on little to moderate volume, which is really good for the ears in the long term perspective.
Reviewed on B&H Photo Video
Awesome headphones
Sep 15, 2014
I use these for casual listening and dj'ing and these are amazing! Im glad I decided to spend the extra money theyre worth it! The sound is clear, the lows arent overpowering, the mids are crisp as well as the highs. The headphones are also comfortable (as with most overears) and its a plus you can customize the shields. Overall im very satisfied with the product, would recommend.
Reviewed on B&H Photo Video
very good headphones
Jul 15, 2013
These headphones work really well with my little I-pod classic and with my Mac computer when watching movies or off my big stereo. The box made specifically for this product is wonderful and it packs tight and compact. I bought them because of the very good warranty, I have bought Sony and Sennheiser headphones in the past but these are way better!
Reviewed on B&H Photo Video
Awesome headphones worth every penny
Apr 10, 2013
Great headphones w/ awesome sound.. kick's pretty much all headphones in the same class w/ similar price point.. only comparable headphones i've heard in the same price point are the AKG K550 which are also awesome headphones.. if you want portable closed headphones that also give you the sound of space then these are for you..
Reviewed on B&H Photo Video
8 hours of music listening per day
May 8, 2014
I did have to order the thicker foam from Vmod but now I can listen all day without pain. Great headphones (I bought daughter her own) she kept borrowing mine. Paired with the power amp I actually lower my volume because I can hear so much more of the music. I would buy them again. Very solid boult quality.
Reviewed on B&H Photo Video
Very tight bottom and extremely good fit
Sep 5, 2013
Been on it for a week now. Pretty impressive sound however not for those who prefers to have excellent isolation. Beyerdynamics DT 770 does a much better job with that. Fit is top class. Very comfort and keeps it position without gripping you like a vice. Just a tad pricey otherwise it would get a 5 star.
Reviewed on B&H Photo Video
Excellent headphones.
Nov 24, 2013
Love these these headphones,amazing bass but not at the expense of the mids and highs. Sounds good with any genre of music but really shines with drum n bass.I have these hooked with a Fiio X3 and I couldn't be any happier with the sound. Thanks V-Moda,u have a customer for life.
Reviewed on B&H Photo Video
Great sound, Very comfortable
Feb 24, 2015
These are great sounding, very balanced headphones suitable for all types of uses. I've used them on 2.5 hr+ DJ sets with no discomfort whatsoever. They look nice and have a very good build quality.
Reviewed on B&H Photo Video