Bose QuietComfort QC35 II Over-Ear Wireless Headphones Black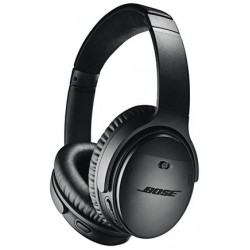 Noise Cancelling My Aching Foot
Jan 22, 2019
The sound reproduction isnt bad. Actually, sound reproduction is pretty good. The noise cancelling is at best a joke; at worst non-existent. You have a choice of three positions for the noise cancelling. I have no idea why they bothered. Maybe they will come up with a software update. A cheap set of Sony connected headphones does a much better job.
Reviewed on B&H Photo Video
Excellent ear phones.
Feb 25, 2019
As a person with hearing difficulties, having these noise cancelling ear phones is a joy. Linked to my tablet whilst watching a film on the rush hour commute to London allowed me to forget I was on a train. I have a large head and these are very light and comfy. Looking forward to seeing how well they do on a long flight. Sound quality is superb.
Reviewed on Argos.co.uk
Aug 17, 2019
Having used Bose headphones before, the quality of my purchase of the QC35 11 has not disappointed me at all. The sound quality is perfect and they are so comfortable, you almost forget that you have them on. The style and design is just appropriate....they snuggly fit perfectly over my ears. A good buy. I would recommend the QC35 11 to anybody.
Reviewed on Argos.co.uk
Quality and comfort but expensive
Feb 14, 2018
I've tried and tested quite a range of wireless headphones - QC II are the best for me. Sound quality is good enough for a mortal to enjoy music or... silence experience. Comfortable and light. However, any harder gym session will end up with loads of extra sweat. Anyway, QCII make me listen to and explore more music switching the tele off.
Reviewed on Argos.co.uk
Bulky & good sound. Practical.
Jan 3, 2019
This is my 3 pair of Bose. I think they are great just a bit bulky. I have the Q3 which are smaller, and just go on the ear. But after a while, it hurts my head.So i got these that cover the ear entirely and are more comfortable especially on long trips. The sound is very good, and I do like the blue tooth option. They fold and store nicely.
Reviewed on B&H Photo Video
Bose QC 35 11 Over Ear Wireless Headphones
Nov 24, 2018
Been using solo beats 3 wireless headphones before I bought the Bose QC 35 11 over ear wireless headphones.These are the best headphones I've ever had.Theyre very comfortable,sound quality is superb..I've stopped using my original iPhone X headphones now.If you're looking for high quality headphones,I'd recommend them without doubt.
Reviewed on Argos.co.uk
Comfortable Headphones
Jul 27, 2018
Good sound for noise cancelling headphones. Great for use in the office or on a plane, they work best for cutting out sounds like engines, fans, air conditioning, etc. You can wear them all day without discomfort and the battery life is great. Hands free calling is hit and miss depending on how much noise is around at the time.
Reviewed on Argos.co.uk
Amazing sound
Jun 25, 2019
These are easily the best sounding headphones of any sort that I've ever owned. The noise-cancellation works great, and the adjustability is a great added feature. If Bose could just solve the over-ear issue of ears getting hot that comes with over-ear headphones, then they would have the best mousetrap of personal listening ever.
Reviewed on B&H Photo Video
Great but meh
Apr 12, 2019
I got them for public transport yet when on a bus sometimes get the weird shakes feeling just listening to them as you do when putting your head against the window, they're not actually that loud but the noise cancelling helps. Beats are louder and more compact. Recently my hearings gone really numb too not sure if due to these
Reviewed on Argos.co.uk
These are best after comparing
Nov 25, 2019
I found these to be the best for sound quality, ease of use (the controls) and quality of build and comfort. Sony has more adjustments but unless you have to have them the clean sound and adjustments of the Bose are perfect. Concerning the build quality you see many more of the competitor headphones being sold is refurbished.
Reviewed on B&H Photo Video
An amazing everyday experience
Oct 21, 2019
I was initially thinking of returning this headset as it felt very uncomfortable and caused headaches. But after about a couple of weeks I absolutely loved it. It takes a bit for the rather tight fit to get looser but once it does it provides incomparable sound proofing and comfort. I love it and wear it up to 8h a day now.
Reviewed on Argos.co.uk
Incredible sound and effective noise cancellation
Dec 11, 2018
I bought these headphones because my office plays Public Music, i.e. the top 100 billboard tunes are constantly droning on. As much as Id like to be more go-with-the-flow, alas, I am not! I got these headphones to tune out the office noise - since then, my productivity, focus, (and sanity) have been restored! Thank you Bose!
Reviewed on B&H Photo Video
Fantastic headphones.
Jan 27, 2020
I have wanted to treat myself to some Bose headphones for ages and I am glad I finally did. The sound quality is superb. No matter how loud you have them or how deep the bass is; there is never any distortion or vibration. No issues with the Bluetooth connectivity which was very easy to set up. Really happy with them.
Reviewed on Argos.co.uk
I was not a huge Bose fan until now
Apr 9, 2018
I have always thought that the Bose headphones were overpriced and missing the midrange tones, but after trying these I changed my mind. They are excellent at noise cancelling and have all the controls for my iPhone as well. And soon they will work with Tile to help find them is I have left them somewhere. Cool stuff.
Reviewed on B&H Photo Video
You can't beat Bose
Jan 30, 2020
These are an amazing pair of headphones. I did wonder about how blue they'd be but they're subtle and come with a limited edition carry case too. The comfort of these are so good and don't press too hard or cause too much suction on the ear. Noise cancelling is up there with the best that I've heard.
Reviewed on Argos.co.uk
Just Used Them!
Aug 28, 2018
I used them on a trip from Houston -D.C. and on the return. I love these headphones. They are light and comfortable, even with hearing aids. The case is perfect. they are easy to charge and to operate. So nice to not have to be connected to a cord. We are traveling to London in a week and I can't want to use them!
Reviewed on B&H Photo Video
Nice little upgrade
Jul 4, 2018
Amazing headphones, great sound and now includes google assistant. You can also control the noise cancelling levels and do everything you could with prior qc 35. Only downside was that it never came with airplane adapter as prior version did however as I already owned the q.c 35 I just simply switched carry cases.
Reviewed on Argos.co.uk
Fantastic for long haul flights
Dec 28, 2018
Bought these a day before my long haul 14-hour flight. Noise cancelling was fantastic. It doesn't come with a flight adaptor but it can be bought on the Bose website or (generic brand) ones from any random mobile accessory shop. Battery lasts long, and sound quality is great if you're the average listener like me.
Reviewed on Argos.co.uk
Great comfortable pair of headphones
Jan 16, 2020
I'm really satisfied with these headphones. They're comfy, very moreish because of that and the noise cancelling filters out most noise when activated. You can connect to the app to map active noise cancelling and then happily use the headphones wired in without the app (I prefer that). Overall a good purchase
Reviewed on Argos.co.uk
awesome wireless headphones
Oct 24, 2019
Very good sound quailty,really comfortable to wear for long periods.. Nife smart design. Noise cancelling is great,ideal for busy places like a coffe shop,where you want to listen only to your music. Really like how they fold neatly into its case. Battery life is very good,also. Well worth a purchase
Reviewed on Argos.co.uk
Brilliant headphones
Apr 18, 2018
I mainly bought these for when we travel so I can watch films/music, iv not used on a plane yet but omg they are brilliant, sound is so clear and crisp, expensive but worth the money, wouldn't hesitate to recommend to people, come in black as well but personally I think the silver looks more stylish.
Reviewed on Argos.co.uk
The headphones are amazing.
Jan 20, 2020
- recommended by a friend - comfortable - the sound is amazing - I love the quiet switch off background system - the sound is incredible - like the colour - the battery last long - I recommend them myself to others - they arrived earlier than was said - collection was very simple and easy
Reviewed on Argos.co.uk
Best purchase ever
Nov 16, 2019
The sound is typically Bose, amazing. So comfortable that I wore them for over 8 hours without issue. Great battery life and connectivity. The noise cancelling is just epic. Drops all background noise with ease. Writing this review in an airport and I can't hear a thing besides the music. Love them.
Reviewed on Argos.co.uk
BoseQC35-2 comfy, stylish and worth the investment
Apr 5, 2019
These headphones have been top of my most wanted list for years, and when I finally had enough money I bought them, the products comfort, sound quality and noise cancellation is second to none, the only downside to this product is that they are expensive, yet worth it with the right offer...
Reviewed on Argos.co.uk