Bose QuietComfort QC35 II Over-Ear Wireless Headphones Black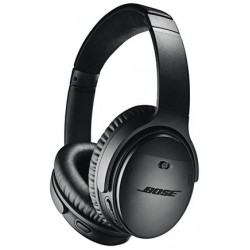 Very Good
May 24, 2018
The headphone has comfortable fit as the earcups are well padded and can rotate for a fine-tuned. It is portable as the Earcups rotate and fold flat into the included compact case that is lightweight, sturdy, and protects the headphone during traveling. The headphone is available in Black or White and includes 56-inch QC25 inline remote and microphone cable, Airline adapter, Carrying case, AAA battery. https://www.boolpool.com/reviews/bose-quietcomfort-25-acoustic-noise-cancelling-headphones-for-apple-devices-black-wired-35mm
Reviewed on B&H Photo Video
Noise Cancelling Supreme
Oct 17, 2018
I was cautious to invest a lot of money into a pair of headphones. But, if you've done your research you would be aware they're considered the best on the market. Can confirm the critics aren't lying! The noise cancelling is immense, not many sounds can overpower it. Not even my noisy Drum&Base neighbour. Definitely get the 20 hours battery life Bose claim, recharge time is quick. Would say less than 2 hours to recharge. It's a high price, but you're paying for the quality. Best on the market
Reviewed on Argos.co.uk
Market leader
May 16, 2019
If you want best in class noise blocking then look no further as these are best in class. Though audio quality may not be the best ( lack lustre highs and lows) it will be More than enough for most, for my purpose of blocking out traffic/ transport noise it is perfect for my need. Do keep in mind this is my second pair of these now. The hinges in my experience are very delicate and have broken with me, that being said i have had friends that have had no problems with theirs for 2 years now.
Reviewed on Argos.co.uk
Better than beats studio
May 23, 2018
After having 3 sets of beats studio 3's go wrong on me ( Argos offered refund or replacement straight away , great service ) . I decided that a change was in order . I could not be happier with these headphones . I have championed beats since they were made by monster But as soon as I tried these QC3's I realised I will not go with beats until they can rival this product (which they are no where near ) if your looking for a set of very very good noise cancelling headphones , GO WITH THESE
Reviewed on Argos.co.uk
Great headphones
Dec 30, 2019
THE GOOD Sound quality is very good. The automated verbal instructions were annoying to me so switched her off in the app. Charges really quickly. The noise cancellation options are superb. The design is also very good. Flexible handling. Connects to my devices really quickly with minimal fuss. Can reach loud levels which is great. THE BAD Doesn't seem to be able to block out sound leak. If on a train journey- everyone on the carriage can hear exactly what you're listening to - clearly.
Reviewed on Argos.co.uk
EXCELLENT HEADPHONES
Jun 7, 2019
These headphones were rated highest by Consumer Reports for comfort and sound. This information is the next best thing than trying to purchase a long list of quality headphones trying to choose the right fit. As I said excellent sound, and very comfortable for extended wear with nice wireless range for the price. Regardless check out a great company as B&H Superstore that has excellent pricing, expedited free shipping, no taxes and excellent communications. I have found my new shopping site.
Reviewed on B&H Photo Video
Well Worth the Money!!!!!
Jan 11, 2019
Great set if Earphones well worth the price if you can afford it. I am using these with my Galaxy S9 with no issues, headphones are comfortable and the battery life is excellent lasting over a week. I use every day on the train to/from work for at least 2+ hours a day. The noise cancelling in my opinion is better than the previous models of Bose earphones My one concern is that as a gentlemen with hair Bose haven't taken in to consideration hair products on the velvet head piece.
Reviewed on Argos.co.uk
Excellent!
Sep 14, 2018
This QC35 II is the first noise cancelling headphones that I have owned, and at least at home, they work great (I will try them on a long flight trip to Hawaii, later on this year). They really cancel out the outside environmental noise, and the sound quality is great really picking up the bass lows, and up to the high frequencies. I haven't used the features to use the Google assistant, but will try it later...right now I just enjoy the sonic qualities of this excellent headphones!
Reviewed on B&H Photo Video
Excellent sound
Nov 8, 2018
Fantastic sound , bought these to replace my 15 years old QC 3's . I am so impressed and amazed that the noise cancelling has even improved from what I already thought was perfect . Light to wear , stlhlish , packs smaller than my old ones . Don't use the assistant feature as I am an iOS user but that same buttons works with Siri so result . It would be good to have a usb charger and an aircraft adapter in the box but not a biggy for me as I have them from my previous set .
Reviewed on Argos.co.uk
Ultimate aural!
Feb 14, 2019
These are a luxury in every sense of the word. Very expensive and probably not worth the premium price unless you're a music professional but I've reached a point in life where I can afford as little excess now and again! Can't fault them so far. Given the option I'd rather have had a neutral or English accent from the assistant, but you don't hear it very often so it doesn't diminish the pleasure. Great case, nothing flashy or ostentatious, just do the job seriously well.
Reviewed on Argos.co.uk
Good but not good enough
Mar 28, 2018
I brought these headphones for when im on the tube. The noise cancelling is quite good when it comes to music due to the volume of the music helps cancel out noise. However it is not very good when it comes to watching programmes on the tube. Most of the time I will have to turn on subtitles as I cannot hear the programme at all at full volume and high noise cancelling. Also the top volume on the headphones is not that loud. But overall the headphones are good everywhere else.
Reviewed on Argos.co.uk
Comfortable and Easy to Operate
Dec 9, 2018
I wore these headphones on a 12 hour flight and had no problems with comfort. The sound quality is perfectly adequate, and the system is fairly easy to operate. One small annoyance is that the system announces that it can't find the source, for every source. It would seem simpler to say "no sources found". Also the buttons are a bit difficult to find with your fingers until you get used to where they are. None of these issues would discourage me from buying the headphones.
Reviewed on Argos.co.uk
Incredible Noise Cancellation
Sep 18, 2019
I bought these headphones for two reasons: noise cancellation and comfort. I use them during my commute and they do an unbelievably incredible job at cutting out the noise. They are comfortable even when wearing for an extended period of time. I have had very few issues with Bluetooth connectivity, especially compared to other wireless headphones I have used in the past. The case they come with is nice, and the audio cable is a good length. The battery life is also excellent.
Reviewed on Argos.co.uk
Bluetooth connectivity very poor
May 1, 2019
Product has good quality but not excellent and no way to adjust it within itself. They are very good quality and feel very comfortable on. The tactile switches are good and better than touch sensitive versions where you're never sure if it's worked. Biggest issue is the bluetooth connection. Although his is easy to do, it feels very weak and loses the connection even when just moving your head about, let alone walking around. I can't recommend these based on this problem.
Reviewed on Argos.co.uk
Definitely worth purchasing.
Dec 6, 2018
I own five different pairs of over the ear headphones and recently purchased these to be able to watch tv in the bedroom late at night. I also own a pair of QC 25s that I use daily as well. These are very comfortable and the Bluetooth technology works pretty well. The sound quality isnt quite as good as some of my higher end wired headphones, but thats to be expected from a wireless headphone with noise cancelling. This is one of my better purchases, Id recommend them.
Reviewed on B&H Photo Video
Amazing
Jul 26, 2019
Probabaly the best pie of headphones I have ever used. The battery life is amazing they charge up to 100% very quickly. They feel secure on your head have a crisp sound making the experience even better. The wireless feature works effortlessly. They also display on your notification centre how much battery you have and they tell you this when turning them on. One of my faviroute features would be the button that controls the noise cancellation and how much you want.
Reviewed on Argos.co.uk
Very comfortable and versatile
Dec 30, 2018
I bought those QC35 II to use them for travel/commute. They are very effective in isolating jet noise and they do make the travel experience more enjoyable. They are very comfortable and I am now using them also in other noisy environments. I love that I can still answer the phone with noise reduction active while watching a movie or listening to music. They are very easy to set up and pair and, most importantly, do not require batteries since they are recharged by usb.
Reviewed on B&H Photo Video
Superb producr
Mar 28, 2019
Ok. So yes, these are by a solid and recognised brand name. They carry a cost in line with that name. Is it worth it? Oh most definitely. The ANC is exceptional- coping easily with noisy commutes on underground trains. Connection is seamless, and having audible confirmation of the battery life is a nice touch. Sound quality is amazing, with no need to have the volume excessively high. Comfortable to wear too. Highly recommend these as being worth every penny.
Reviewed on Argos.co.uk
Bose QuietComfort QC35 II
Mar 18, 2019
Bose everybody knows the name but are they worth the price well maybe if money is on problem there comfortable and I mean comfortable the noise cancelling works great it's not the best out the at the moment but it works fine for me sound quality absolutely great I can't see it getting any better people say there's not enough base it's fine they sound like subs when there on but they are expensive headphones you get what you pay for and I think Bose have got it right
Reviewed on Argos.co.uk
Now the "2nd" best noise cancelling headphones
Jun 13, 2018
Used to be the best noise cancelling headphones but just been beaten by Sonys new noise cancelling headphones with far better noise cancelling and at the same price! Only thing Bose is better at is phone calls as this is where sonys quality is lacking but let's face it, no one buys these type of headphones for phone calls. . Other than that, Sony wins even in the comfort part. So I returned these QC35 headphones and bought the new Sony ones also from Argos.
Reviewed on Argos.co.uk
Perfect flat companion
Feb 25, 2019
After moving into a flat I needed an option to listen to my music and watching movies without annoying my neighbours. Absolutely no regrets on my purchase. There's a reason why these headphones are regarded as the gold standard in audio quality and comfort. And the noise cancelling is stunning, although I've since dial the effect down a notch as it feels very much like a sensory deprecation chamber at its full setting. Fantastic purchase you won't regret buying.
Reviewed on Argos.co.uk
Blew me away
Aug 15, 2018
The noise cancellation is incredibly good; superior to a couple of other brands I've tried (in-ear and on-ear). Simple to connect to my iPhone with a great app. Once set up they connect automatically and almost immediately. Battery life is great, and Bluetooth disconnects automatically if you plug in the audio cable (while watching in-flight entertainment, for example) which saves battery. The carry case is very smart and practical. I really can't flaw them!
Reviewed on Argos.co.uk
Comfortable headphones with great noise cancelling
Jul 27, 2019
Having tried numerous headphones, settled in this one and it didn't disappoint. Fits comfortably on the head and had effective noise cancellation. Bass could have been slightly better but Bose has always implemented sound signature not too bass overwhelming so as to drown out other frequencies. Can connect to 2 devices at a time and cab change devices using button on the headphones. Had integration with Google assistant and Alexa, if that's your cup of tea.
Reviewed on Argos.co.uk
Amazing headphones
Sep 26, 2019
These are amazing headphones super comfortable with amazing noise cancelling very noticeable when commuting on the tube or on an airplane. They cut out a huge amount of background noise. The sound quality is amazing, I've had plenty of headphones but decided I needed a decent pair since I use them daily these where worth the money. The only down side is the 3.5mm audio cable is a little on the shorter side which is a pain when using them on a plane.
Reviewed on Argos.co.uk