Bose QuietComfort 35 Series II Wireless Noise-Canceling Headphones (Black)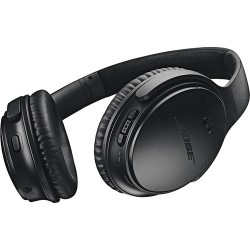 Great Headphone but?
Mar 18, 2020
Really good headphones sound fantastic, and they are very comfortable, they connect to my iphone and firestick perfectly, but!! if you are wanting to connect to a pc running windows 7 by bluetooth,you could be in for some problems, i have finally got mine to work after hours of trying, i am upgrading to windows 10 shortly i hope that improves the connectivity
Reviewed on Argos.co.uk
Convenient, with accurate sound that's easy on the ears
Mar 5, 2020
I have a pair of Bose's wired headphones, and the sound quality of the 35s is roughly equivalent (but see the next sentence). I think noise cancellation may be a bit better, a good thing because it allows me to limit volume load on my damaged hearing. And, of course, not having to worry about getting entangled in a wire while exercising is great. Highly recommended, but nb the caveat.
Reviewed on B&H Photo Video
These Bose headphones are really fantastic
Feb 19, 2020
I purchased these headphones as an 'early' birthday present, and was really impressed with the sound quality, and comfortability. After almost an hour of listening, you couldn't tell that you had got them on your head, they are that comfortable, as well as having a nice rich sound. Another top class quality product that I was glad to have purchased. An excellent and friendly service as always
Reviewed on Argos.co.uk
I've tried so many others
Feb 19, 2020
I've had so many other sets of headphones but these are something else, comfortable and lightweight. The noise cancelling is unbelievably good! Recommend 100%
Reviewed on Argos.co.uk
Just brilliant
Feb 13, 2020
Sound quality, noise reduction, app and comfort make getting these cans a no brainer. Love em
Reviewed on Argos.co.uk
I am very happy with the headphones
Feb 6, 2020
Since I lost my old Bose headphones I urgently needed a new pair. I looked for a pair that had noise cancelling (this one has it) and was also stylish (I didn't want black headphones). The noise cancelling is great! I'm in the tube (London) a lot and can listen to my music without hearing outside noises. I like the sound too, but I'm not an expert when it comes to this.
Reviewed on Argos.co.uk
Amazing Headphones
Feb 5, 2020
These were bought as a present for my husband who is a technology snob! He loves them. He said the sound is perfect, they are very comfortable and aesthetically appealing.
Reviewed on Argos.co.uk
Brilliant headphones
Feb 5, 2020
Not found better headphones than these. Feel and fit are excellent, sound brilliant. Shame the service from Argos was so poor.
Reviewed on Argos.co.uk
100 off and a Ltd edition...
Jan 31, 2020
Bought the QC25 wired ones last year, the noise cancellation is superb so I bought these wireless ones.
Reviewed on Argos.co.uk
Jan 30, 2020
Headphones are great! the bass isn't strong but the sound quality is good. Battery life is amazing!
Reviewed on Argos.co.uk
Great bins
Jan 30, 2020
Got them on offer and so pleased I did first wear on plane and I couldn't even hear the A380 engines to Dubai. Wear them on all journeys now. On phone conversations I can be heard clearly without shouting!
Reviewed on Argos.co.uk
Good looking and comfy
Jan 30, 2020
Great color for these...rare also. Got them for a killer price. Sound is good...connection is stable... The only think that i m not sure about is battery life with anc maxed out...seems to drain the battery fast...but still a full 2 3 days of use
Reviewed on Argos.co.uk
You can't beat Bose
Jan 30, 2020
These are an amazing pair of headphones. I did wonder about how blue they'd be but they're subtle and come with a limited edition carry case too. The comfort of these are so good and don't press too hard or cause too much suction on the ear. Noise cancelling is up there with the best that I've heard.
Reviewed on Argos.co.uk
Fantastic headphones.
Jan 27, 2020
I have wanted to treat myself to some Bose headphones for ages and I am glad I finally did. The sound quality is superb. No matter how loud you have them or how deep the bass is; there is never any distortion or vibration. No issues with the Bluetooth connectivity which was very easy to set up. Really happy with them.
Reviewed on Argos.co.uk
Jan 23, 2020
Really pleases with these. They have great sound quality compared to some competitors. Which they were slightly smaller as they are a bit big for me but otherwise very happy with them
Reviewed on Argos.co.uk
Bose headphones
Jan 22, 2020
These headphones are wicked could of made the charger lead longer and put plug in there
Reviewed on Argos.co.uk
The headphones are amazing.
Jan 20, 2020
- recommended by a friend - comfortable - the sound is amazing - I love the quiet switch off background system - the sound is incredible - like the colour - the battery last long - I recommend them myself to others - they arrived earlier than was said - collection was very simple and easy
Reviewed on Argos.co.uk
Great comfortable pair of headphones
Jan 16, 2020
I'm really satisfied with these headphones. They're comfy, very moreish because of that and the noise cancelling filters out most noise when activated. You can connect to the app to map active noise cancelling and then happily use the headphones wired in without the app (I prefer that). Overall a good purchase
Reviewed on Argos.co.uk
Bose qc beats Dre by a mile
Jan 16, 2020
Amazing sound and comfortably sit around your ears , the only concern I have is the plastic look it appears that the shine would wear out else 5 star
Reviewed on Argos.co.uk
They live up to their name
Jan 10, 2020
Very comfortable and easy to set up. Didn't expect them to take incoming phone calls. Pauses the music and has a built in mic~ neat. Sound quality not as good as the latest Sony's but the headphones are more comfortable in my view. Noise cancelling very effective on a recent plane trip. Midnight blue very smart looking and a bit more interesting than the usual black ones.
Reviewed on Argos.co.uk
Amazing Headphone
Jan 10, 2020
That's the best headphone you could ask for. The sound quality is impecable, one can hear every single detail in each music/recording. The noise-canceling is out of this world, it's very impressive.
Reviewed on B&H Photo Video
SO HELPFUL!
Jan 10, 2020
Amazing support and professionalism from everybody in the store felt like they understood everything I needed and gave great customer service!
Reviewed on B&H Photo Video
Bose quality
Jan 9, 2020
My partner was delighted with his present, the quality, sound and the noise cancelling feature is outstanding, worth the price paid,
Reviewed on Argos.co.uk
Works amazingly
Jan 6, 2020
Dont get it wet. Dont forget to charge it - that said, the battery life is amazing. Do enjoy using them. Do marvel at their sound canceling effect. Do look after them by using the provided box for storage.
Reviewed on Argos.co.uk