Bose QuietComfort 35 II Bluetooth Headphones - Midnight Blue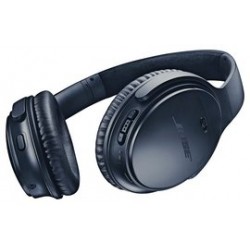 Incredible Noise Cancellation
Sep 18, 2019
I bought these headphones for two reasons: noise cancellation and comfort. I use them during my commute and they do an unbelievably incredible job at cutting out the noise. They are comfortable even when wearing for an extended period of time. I have had very few issues with Bluetooth connectivity, especially compared to other wireless headphones I have used in the past. The case they come with is nice, and the audio cable is a good length. The battery life is also excellent.
Reviewed on Argos.co.uk
Top quality headphones
Sep 18, 2019
As expected from Bose flagship headphones, these are top quality, have great sound, are incredibly comfortable and sturdy and look great. They come with an amazing case as well. Very happy with my purchase and would recommend to a friend.
Reviewed on Argos.co.uk
Simply amazing
Sep 4, 2019
Best headphones I have ever purchased. Great sound and the quality of the noise reduction takes your musical or listening experience to a different level. Stunning
Reviewed on Argos.co.uk
My Bose headphones are amazing
Aug 30, 2019
This product it's absolutely amazing and highly recommend to every person that likes music and comfort at the same time. The price is really good
Reviewed on Argos.co.uk
Never had sound like it 100% above the rest
Aug 30, 2019
I would and have recommended these headphones to others sound is so crisp and clear even if you dont want to listen to music for example on a plain like I did you can just ware them with the noise cancelling on and enjoy the piece even around crying baby's
Reviewed on Argos.co.uk
Look No Further You Have Reached The Top!
Aug 28, 2019
The good news: The Bose QC 35 II are the best headphones money can buy. In terms of true high fidelity sound, superb noise canceling, wearing comfort, and build quality nothing comes even close. The bad news: These are apparently the last great headphones in production at Bose. That is why I bought them. The next generation Bose 700, like Star Trek The Next Generation are awful. In the next generation form factor Bose tries to please Beats fans ... Show Moreby pushing the bass, and please Sony fans by going full touchy-feely with no more buttons. I say get the last real Bose headphones made for Bose fans while you can. Once you reach the top, everything else is down there. Look no further...Show Less
Reviewed on B&H Photo Video
Everything you could ever wish for.
Aug 21, 2019
Everything you could ever wish for in a pair of headphones. The noise cancellation aspect makes the sounds quality even better.
Reviewed on Argos.co.uk
Aug 17, 2019
Having used Bose headphones before, the quality of my purchase of the QC35 11 has not disappointed me at all. The sound quality is perfect and they are so comfortable, you almost forget that you have them on. The style and design is just appropriate....they snuggly fit perfectly over my ears. A good buy. I would recommend the QC35 11 to anybody.
Reviewed on Argos.co.uk
Works great
Aug 12, 2019
Absolutely brilliant, i was really curious how it works on a fligh and I wasn't disappointed. Excellent quality
Reviewed on Argos.co.uk
Bose Quality
Aug 9, 2019
I knew what to expect and Bose didn't let me down, I purchased these as my son has commandeered my trusty old QC 15's and I have a new train commute to work. The level of noise cancelling is excellent and the sound quality is akin to having smooth liquid velvet poured into your ears
Reviewed on Argos.co.uk
Pretty Satisfied with these headphones
Aug 5, 2019
Now that I have gone on several trips & airplane trips and use these now more than my Quiet Comfort 25s I can say I like these a lot. They are great for Bluetooth devices. I wish that there was a way to use Bluetooth but then have the option to turn on and off the noise canceling abilities so that if I need to hear my music but also what is going on in a room you could have that option especially with a Apple phone with no headphone jack. I do th... Show Moreink these are comfortable and gives me a lot of freedom without worrying about a wire holding me to be in a particular distance. I can walk away from my device and as long as there is no interference or stay in a particular distance of the device I can have my head phones on and the device in a different room while listening to a podcast or my music. Not a fan of the audio wire it comes with because it is so thin that it could easily be cut when caught in a door. Wish the charging wire for the headphones was just a little longer rather than short. Especially it the wall plug is so high and the charging wire is not even long enough to touch the floor. I think I prefer the case that comes with the QC25 vs the QC35. The QC 25 case is a better made case. In some ways I feel like I received more from the QC25 headphones than the QC35. The big differences is being able to charge the headphones vs batteries. You can control more with more buttons on the headphones vs the QC25 which had controls on the audio cable. I will say that I used these from Alaska to Florida & did not need to charge them during the trip. The batteries lasted me the entire trip both going there and back & that was true as well when I went on my recent trip driving to Washington DC & West Virginia From Florida and they lasted me the entire trip. I have also worn these to sleep to try and make it so I could sleep through noisy snoring people. Even though it may not have drowned them out completely it did reduce the sound significantly.Show Less
Reviewed on B&H Photo Video
Bose QCII Wireless Headphones
Aug 5, 2019
The noise cancelling feature is fantastic - travelling on public transport to/from work, sometimes I just have noise cancelling on without listening to any music. It's incredible. Sound quality is fantastic as well with a decent range from the device paired to. Well worth the investment.
Reviewed on Argos.co.uk
They look, feel, and sound great I'm Very happy
Aug 1, 2019
The sound is amazing , and the built in Alexa and Google assist is a nice touch aswel as letting you know you've got notifications. overall I'm very happy with these headphones.
Reviewed on Argos.co.uk
Top Notch Headphonea
Aug 1, 2019
Fantastic headphones, noise cancelling works very well and cuts out the loudest of distractions. Comes in a sturdy carry case and headphones have a great battery life, 20 hrs on bluetooth and 40 hrs wired from one charge. Recommended.
Reviewed on Argos.co.uk
Comfortable headphones with great noise cancelling
Jul 27, 2019
Having tried numerous headphones, settled in this one and it didn't disappoint. Fits comfortably on the head and had effective noise cancellation. Bass could have been slightly better but Bose has always implemented sound signature not too bass overwhelming so as to drown out other frequencies. Can connect to 2 devices at a time and cab change devices using button on the headphones. Had integration with Google assistant and Alexa, if that's your cup of tea.
Reviewed on Argos.co.uk
Amazing
Jul 26, 2019
Probabaly the best pie of headphones I have ever used. The battery life is amazing they charge up to 100% very quickly. They feel secure on your head have a crisp sound making the experience even better. The wireless feature works effortlessly. They also display on your notification centre how much battery you have and they tell you this when turning them on. One of my faviroute features would be the button that controls the noise cancellation and how much you want.
Reviewed on Argos.co.uk
Trust only Bose
Jul 18, 2019
Very expensive but due to nothing else in my house for music other than Bose, I am well aware of the fantastic sound they provide so these were a must and certainly haven't let me down
Reviewed on Argos.co.uk
Decent but not that good
Jul 7, 2019
A little short when comes to bass, and I am not a bass person, but decent in rest. Nothing too impressive in the sound quality, but in noisy environment it helps to have noise cancelling.
Reviewed on Argos.co.uk
Great Headset
Jul 2, 2019
I'm using the Bose QuietComfort 35 headset with a Hosa Bluetooth adapter with my videotaping rig to monitor recorded audio. My objective was to eliminate the headset cord which gets in the way during setup especially and this is a good solution. The headset itself is very light weight and comfortable. There is a noticeable delay because of the Bluetooth connection. For this application, the delay is tolerable.
Reviewed on B&H Photo Video
Amazing sound
Jun 25, 2019
These are easily the best sounding headphones of any sort that I've ever owned. The noise-cancellation works great, and the adjustability is a great added feature. If Bose could just solve the over-ear issue of ears getting hot that comes with over-ear headphones, then they would have the best mousetrap of personal listening ever.
Reviewed on B&H Photo Video
Premium Quality Headphones, well worth the price
Jun 13, 2019
As far as wireless headphones go, these are as good as it gets. They are very comfortable to wear for long periods. The noise cancellation is outstanding, it's like being in a recording studio! The built in mic picks up your voice clearly during phone calls and speaking to the virtual assistants (the headphones support the Amazon and Google Assistants). They have a dedicated button for activating the virtual assistants
Reviewed on Argos.co.uk
Extremely Disappointed
Jun 9, 2019
For three hundred dollars I expect to get something I can use out of the box and instructions that actually work. The Quietcomfort 35 II provides neither. Tried to use this product on a recent airline flight and put it away within five minutes - who wants to listen to an endlessly repeated voice prompt when all you want is noise cancellation... Instructions proved to be useless. I was better off with my still functioning 12+ year old Bose headphones...
Reviewed on B&H Photo Video
Extremely comfortable
Jun 9, 2019
Pros: very comfortable; great sound quality; no sound leakage unless very high volume; good noise cancellation; easy to use. Cons: so far, just the price, it is very expensive but worth the money if you can afford it.
Reviewed on Argos.co.uk
EXCELLENT HEADPHONES
Jun 7, 2019
These headphones were rated highest by Consumer Reports for comfort and sound. This information is the next best thing than trying to purchase a long list of quality headphones trying to choose the right fit. As I said excellent sound, and very comfortable for extended wear with nice wireless range for the price. Regardless check out a great company as B&H Superstore that has excellent pricing, expedited free shipping, no taxes and excellent communications. I have found my new shopping site.
Reviewed on B&H Photo Video