Audio-Technica ATH-M50x Monitor Headphones (Black)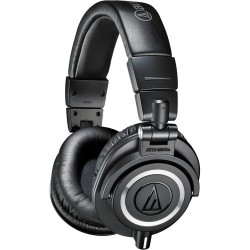 Second Pair - Awesome!
Mar 1, 2020
This is the second pair of these that I have owned. The first ones lasted me about 5 years of brutal wear and tear. These new ones have been redesigned and I love the changes. Better build quality, better sound quality, and much better materials. The old version had an issue with the fabric on the top peeling up and shedding so every time I used them I would end up with little black plastic pieces in my hair. I also love that you can disconnect the cable from the headphones if needed. I would imagine if there were ever to be an issue with the cable itself you could just replace it.
Reviewed on B&H Photo Video
Excellent!
Feb 23, 2020
This AT headphone is SUPERB sound and fully blocking of ambient noise. The bass, mid and treble are really well managed and it's a joy to use. I tried alot of different ones and these by far where exceptional.
Reviewed on B&H Photo Video
Good studio headphones so far
Dec 16, 2019
The sound quality is fine for my audio work and I've had a great Audio-Technica microphone for literally decades, so I'm counting on the same quality. They press harder on my ears than my other headphones, but sit better. Still too early to give a full review.
Reviewed on B&H Photo Video
Excellent
Oct 10, 2019
Very careful product, very professional, equipped with all the necessary accessories for all uses. The sound quality is very good
Reviewed on B&H Photo Video
Still breaking them in...
Aug 9, 2019
I have only about 7 hours on these phones, so I would still consider them being in the break-in period. Observations so far: they sound musical. What I mean is that they sound like the music is coming directly from the instruments, not through headphones. If you've ever used a pair of inferior cans, you know exactly what I mean. The sound is natural, and frequency response appears to be quite flat. These headphones do NOT have any extra bass or h... Show Moreeavy EQ that ruin the purity of the audio material. The fit is tight but comfortable, and insulation from the ambient environment is very good. These cans are built better than my old Sony MDR-V6, which also sound neutral, natural, and pure. If you like pure music without silly things like extra bass or other sound-ruining gadgets, I would give these cans a try.Show Less
Reviewed on B&H Photo Video
Two Years & still Strong!
Aug 6, 2019
Although it took me quite some time to settle on this really nice headphone set (wanted the M70x, but were $100 more & the gap is higher today), once the Audio-Technica ATH-M50x arrived, I fell in love! I guess that was the case, because until then, the only headphones I owned were those that were $30 or less in cost. This set really delivers & if I had to buy another, would do it all over again. The music & movies sounds so good, enabling W... Show Moreindows Sonic for Headphones provides a bit more life for some content, although not needed for all. Just try & see. Also works well plugged into the monitor, powered by the NVIDIA audio (PC) or when watching Roku Ultra or Amazon 4K Fire Stick. Even after all of my usage, these has held up great, the highs, lows & in between are all there. I believe the sound is better coming from the Roku & Fire Stick vs the PC, probably because both are newer technologies & the ATH-M50x can keep up with the times. Although this is now considered by some an 'older' model, I like to think it's a more of a time tested classic. Have been enjoying for over two years & highly recommend this headphone model. When it goes, Audio-Technica will be my first choice for replacement & B&H will be the first place I'll be looking!Show Less
Reviewed on B&H Photo Video
To Hear TV Again
Jul 22, 2019
Im not a technical guru but a 68 year old male that has difficulty hearing words being spoken on TV Shows and or Movies with a lot of background noise even with 3 foot speakers right next to me. With my new Audio-Technica ATH-M50X headphones I dont miss a word whether spoken in English or an actor with a heavy accent behind surround sound from my stereo. For the price I highly recommend. The over the ear padded cups could be cushier but the words... Show More are clearly heard. If you want cushy headphones with more base youll have to spend $299-$350 and purchase the higher priced wireless headphones that may have a delay in the audio. I purchased these to plug directly into my 1/4 inch input jack on my receiver because my older Onkyo is not compatible with wireless headphones and to use wireless Id have to go around my stereo and directly into the TV. Im happy with my purchase and the B&H price.Show Less
Reviewed on B&H Photo Video
Excellent Quality
Jul 18, 2019
These headphones are astounding. Best pair I've ever had. Sound is crisp, rich, and full of life. Thank you, B&H.
Reviewed on B&H Photo Video
Excellent for the money!
Jul 3, 2019
I mainly record Pipe Organ and other classical type music from all guitar to a full orchestra if necessary...and even an occasional thunderstorm complete with hail! With the volume set right and you put the headphones on and take them off, the sound is basically identical. They are comfortable, fold up and one serious plus to me is the 3 different types of wire feeds a coiled cord, a long straight cord and a short one when it is used in close quarters. This is an excellent set of headphones for the money, I recommend them pretty highly.
Reviewed on B&H Photo Video
Jul 1, 2019
Bought these for home usage and for double checking mixes after day time sessions. Overall very happy with the purchase. Serve the purpose well. Pros: Good bang for the buck. Good quality Cons: Tend to sound a little bass and low-mids heavy to my taste. Could be a little uncomfortable wearing these on a longer session for a guys with bigger head and ears like myself.
Reviewed on ThomannMusic.com
Excellent product
Jun 30, 2019
I was looking for a headset to wear whilst walking and exercising in my gym. The main criteria was an interchangeable cable allowing connection to an ipod in my shirt pocket or my ipad on my desk. This product met that need perfectly. The build quality is excellent and so is the sound. My only minor complaint is the swappable cables are proprietary and not allowing third party wires that could be even more appropriate length.
Reviewed on B&H Photo Video
Amazing
Jun 25, 2019
Absolutely amazing headphones. I use them to mix and also casually every day. They are very comfortable and sound fantastic.
Reviewed on ThomannMusic.com
Perfect
Jun 24, 2019
Solid, comfortable, amazing sound quality. The locking mechanism for the cord is dope. And they don't look that bad either.
Reviewed on B&H Photo Video
Nice Headphones
May 26, 2019
I use them for mixing and listening to music. They are of good sound clarity with lots of bass but to tight on the head. Overall very good headphones for their price.
Reviewed on ThomannMusic.com
V good monitoring headphones
May 9, 2019
I bought those headphones for playing the guitar (plugged to the amp) and listening to the music at work. Works Great for both. Audio quality is great for me but I'm not the audiophile ad that is my first monitor headphones. + audio quality + built quality + 3 detachable cables in the box + Good noise cancellation - Would say it's getting a bit uncomfortable after a 2-3h non-stop but nothing serious.
Reviewed on ThomannMusic.com
May 6, 2019
Great headphones which offer fairly flat frequency reproduction. These are solidly built, comfortable and don't overhype the bass to my ears.
Reviewed on ThomannMusic.com
Perfect for practice and studio monitoring
Apr 24, 2019
These headphones are very clear and you can hear very well every note you're playing. Just listening to music is also great with a nice bass and lot of definition. It's also great that it comes with a nice leather pouch and a handful of interchangeable cables.
Reviewed on ThomannMusic.com
Good sound quality for home recording
Apr 8, 2019
No complains for sound and build quality in home recording environment. The plastic parts do not look too sturdy for serious abuse. Overall really great product for the money.
Reviewed on ThomannMusic.com
Leakage
Apr 8, 2019
There is some leakage when using the headphones. This is not good for a recording situation. Otherwise, the headphones are great.
Reviewed on ThomannMusic.com
Great quality sound!
Apr 2, 2019
Love the sound quality and color of these headphones. A lot of headphones feel like they're made for men, not women at all. But, these fit me great and don't pinch anywhere. Plus, I really like that there are a variety of plugs to fit various interface inputs. Definitely happy with the purchase.
Reviewed on ThomannMusic.com
Mar 29, 2019
Highly recommended for silent mixing and mastering. I can now hear sounds and frequences that didn't know they were there at first place. Quite comfortable also if you have a big head... :)
Reviewed on ThomannMusic.com
Expected something better
Mar 5, 2019
I'm gonna be completely honest. I have done a lot of research before buying this and I was heavily impressed by the reviews and don't get me wrong - it is good...just does not live up to the hype. If you do a little bit of research on the cons, you will find that a lot of people find it to be NOT loud. Maybe we are just used to louder sounds. For us, an amp is a must but that's not very practical on the go. :(
Reviewed on ThomannMusic.com
Over hyped by the audio press
Mar 3, 2019
I am very disappointed with the performance of these headphones. In my opinion they have been over hyped by the audio press. The bass is very artificial and over emphasized . The highs are weak but the mids which seem smooth and accurate are overwhelmed by the bass. I agree that they are not expensive and probably perform OK for their price, but I was led to believe they were exceptional for their price. They are not.
Reviewed on B&H Photo Video
Amazing Headphones
Feb 19, 2019
Great bass; treble degrades just a tiny bit only when the sound is ramped up to the very max. Very comfortable and great if you don't want others to be annoyed by whatever you're listening to. Recommended!
Reviewed on ThomannMusic.com